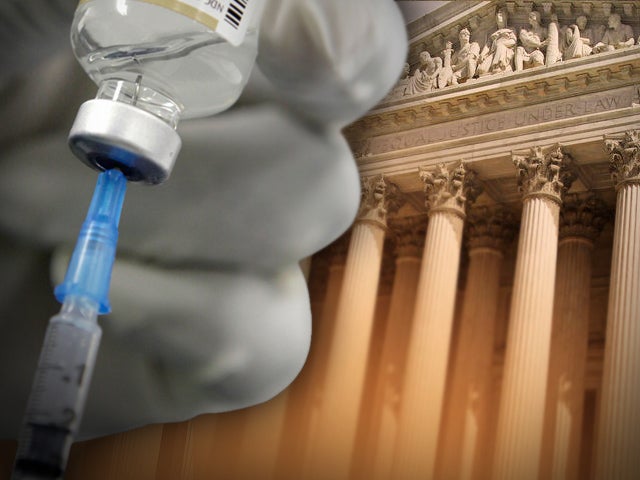 Supreme Court vaccine ruling: parents can't sue drug makers for kids' health problems
(AP) WASHINGTON, D.C. - The Supreme Court ruled Tuesday that a federal law prohibits lawsuits against drug makers over serious side effects from childhood vaccines.
The court voted 6-2 against the parents of a child who sued the drug maker Wyeth in Pennsylvania state court, for the health problems they say their daughter, now 19, suffered from a vaccine she received in infancy.
The ruling was a stinging defeat for families dissatisfied with how they had fared before a special no-fault vaccine court.
Justice Antonin Scalia, writing for the court, said Congress set up a special vaccine court in 1986 to handle such claims as a way to provide compensation to injured children without driving drug manufacturers from the vaccine market. The idea, he said, was to create a system that spares the drug companies the costs of defending against parents' lawsuits.
Justices Ruth Bader Ginsburg and Sonia Sotomayor dissented. Nothing in the 1986 law "remotely suggests that Congress intended such a result," Sotomayor wrote, taking issue with Scalia.
Scalia's opinion was the latest legal setback for parents who felt they got too little from the vaccine court or failed to collect at all.
Such was the case for Robalee and Russell Bruesewitz of Pittsburgh, who filed their lawsuit after the vaccine court rejected their claims for compensation. According to the lawsuit, their daughter, Hannah, was a healthy infant until she received the diphtheria, tetanus and pertussis vaccine in April 1992. The vaccine was made by Wyeth, now owned by Pfizer, Inc.
Within hours of getting the DPT shot, the third in a series of five, the baby suffered a series of debilitating seizures. Hannah continues to suffer from residual seizure disorder, the lawsuit said.
A federal trial judge and the Philadelphia-based 3rd U.S. Circuit Court of Appeals ruled in favor of Wyeth. Indeed, state and federal appeals courts have almost always sided with the vaccine manufacturer in preventing the lawsuits from going forward.
Scalia confirmed that outcome Tuesday. He said that when a vaccine is properly prepared and is accompanied by proper directions and warnings, lawsuits over its side effects are not allowed under the 1986 law.
"Vaccine manufacturers fund from their sales an informal, efficient compensation program for vaccine injuries," Scalia said. "In exchange they avoid costly tort litigation and the occasional disproportionate jury verdict."
The American Academy of Pediatrics, representing more than 60,000 doctors, praised the decision. "Childhood vaccines are among the greatest medical breakthroughs of the last century," said Dr. Marion Burton, the group's president. "Today's Supreme Court decision protects children by strengthening our national immunization system and ensuring that vaccines will continue to prevent the spread of infectious diseases in this country."
Thanks for reading CBS NEWS.
Create your free account or log in
for more features.