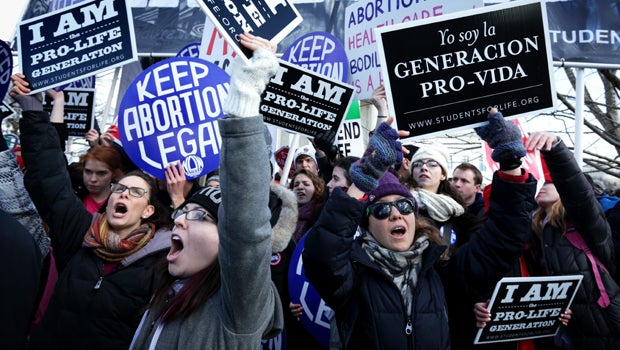 Supreme Court agrees to hear Texas abortion case
WASHINGTON -- The Supreme Court is taking on its first abortion case in eight years, a dispute over state regulation of abortion clinics.
The justices said Friday they will hear arguments over a Texas law that would leave about 10 abortion clinics open across the state. A decision should come by late June, four months before the presidential election.
The high court previously blocked parts of the Texas law. The court took no action on a separate appeal from Mississippi, where a state law would close the only abortion clinic, in Jackson.
States have enacted a wave of measures in recent years that have placed restrictions on when in a pregnancy abortions may be performed, imposed limits on abortions using drugs instead of surgery and raised standards for clinics and the doctors who work in them.
The new case concerns the last category. In Texas, the fight is over two provisions of the law that Gov. Rick Perry signed in 2013. One requires abortion facilities to be constructed like surgical centers. The other allows doctors to perform abortions at clinics only if they have admitting privileges at a local hospital.
Texas had 41 abortion clinics before the clinic law. More than half of those closed when the admitting privileges requirement was allowed to take effect. Nineteen clinics remain.
The focus of the dispute at the Supreme Court is whether the law imposes what the court has called an undue burden on a woman's constitutional right to an abortion. If allowed to take full effect, the law would leave no abortion clinics west of San Antonio and only one operating on a limited basis in the Rio Grande Valley.
The state has argued that women in west Texas already cross into New Mexico to obtain abortions at a clinic in suburban El Paso.
In its decision in Planned Parenthood v. Casey, in 1992, the court ruled that states generally can regulate abortion unless doing so places an undue burden on women. Casey was a huge victory for abortion-rights advocates because it ended up reaffirming the constitutional right to an abortion that the court established in Roe v. Wade in 1973.
In 2007, a divided court upheld a federal law that bans an abortion procedure that opponents call partial-birth abortion and opened the door to new limits on abortion.
Thanks for reading CBS NEWS.
Create your free account or log in
for more features.