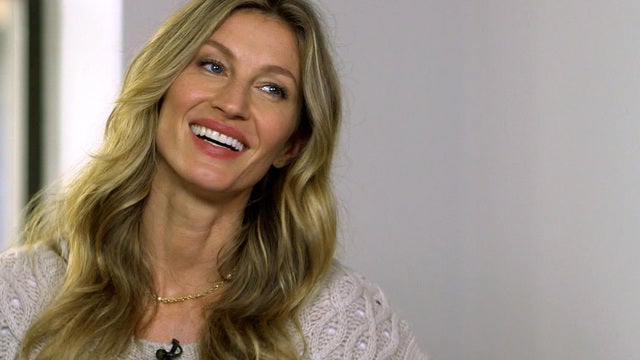 Gisele Bündchen talks modeling career, new book and family
After nearly 20 years, Gisele Bündchen remains one of the world's most famous supermodels. Since 2002, Bündchen has been the most high-paid model in the world. But she says her successful career is just a chapter of her life, reports "CBS This Morning" co-host Charlie Rose.
"I'm so grateful to be where I am right now because I feel fulfilled. I feel like I gave it a lot of energy and dedication and focus to that," said Bündchen. "I think 20 years is like, more than half my life, that I feel is long enough... There are still some things I am going to be doing, but it's not my focus by any means."
Her new book, "Gisele Bündchen" tells the story of Gisele, the model, capturing her transformation from a fresh-faced teenager into the world's greatest supermodel and more. It's a personal photo album that's also a work of art, featuring every great photographer in the industry.
Fashion photographers have always loved her, but she says it has nothing to do with her looks.
"I think I've never complained. If they say, 'Gisele, go there, it's below zero, in a bathing suit and start jumping,' and I'm like, that's what I do," Bündchen said. "If I choose to say yes to something and if someone is putting their trust in me, I don't want to disappoint anybody."
Bündchen was only 14 when she was discovered in a shopping mall in Brazil. She was a tall, lanky tomboy who had no interest in fashion.
But five years later, the Brazilian beauty was on the cover of American Vogue. She changed the face of modeling -- the days of heroine chic were declared over and curves were in.
"I felt like I was at the right place at the right time with the right attitude," she said. "You have to remember there was always a part of me who felt like the underdog... No matter where you go, there's always that part of you that you kind of remember that."
Bündchen said she also felt comfortable with the camera because she separated herself from the persona of Gisele, the model.
"The persona, then Gisele the goofball, me, tomboy... because I think the fashion wanted, you know, created this ideal of glamorous and sexy and all that stuff," she said.
And it served her well. She's graced more magazine covers than any other model ever. She's also earned more money than any of them. Her first big break came when Victoria Secret offered her a $25 million contract when she was just 20 years old, but she said taking the deal was a risk.
"At that time, it was like either you're a Vogue model or you're a catalog model," Bündchen said. "This is a decision you have to make because you might never do a Vogue cover again... I took that chance and it worked out because I was able to navigate between these two worlds."
Ever since, she's been navigating the world of celebrity, thanks in part to her relationship with New England Patriots quarterback Tom Brady, who would become her husband and the father of her two children. But Bündchen says the couple have endured a "few tough times together," including when she found out Brady's former girlfriend was pregnant.
"I didn't know what to do. It was kind of one of those moments of like, 'do I just run away?'" Bündchen said. "I think it was very challenging for everyone involved. I think, you know, eight years later, we have a great relationship... it all worked out in the end but it was a tough time."
Asked about her husband's "Deflategate" scandal, Bündchen said: "My father always says the quality of your life depends on the quality of your relationships. And I think no matter how challenging it was, we were always being supportive of one another. And you know, that's the most important thing you can have in your life... a support system and love."
Thanks for reading CBS NEWS.
Create your free account or log in
for more features.