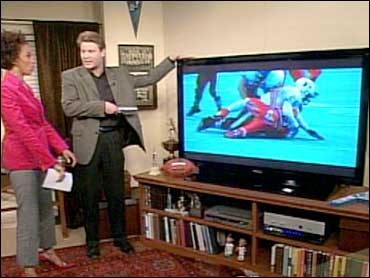 Super Ways To Watch Super Bowl
The Super Bowl is always one of the most-watched TV shows of the year.
And, at least in part due to that, January is one of the biggest TV buying times each year.
But before plunking down your hard-earned money, heed what Best magazine Senior Editor David Gregg told The Early Show co-anchor Rene Syler: "This is the second-most popular time to buy a television besides Christmas, and there's one big clue I have to give everybody. Shop a TV like you shop a car. Unfortunately, there's a sleaze element involved there. So do your research online, and then, if you feel uncomfortable negotiating, bring someone with you. You can save up to $1,000 on a big-screen TV."
Whether you're throwing a party or just want to watch in style, you might consider what Gregg displayed, some of the latest hi-tech electronics for viewing the big game.
PANASONIC VIERA PLASMA TV
It's the largest plasma TV on the market. This 65-inch behemoth boasts an SD memory card slot, which enables you to take an SD card from a digital still camera, insert it in plasma and view your images on a big screen. Life expectancy of 60,000 hours works out to more than 23 years at the average family's viewing rate of 7 hours a day. Its 3,000-1 contrast ratio is the best in the industry, allows for deeper blacks and whiter whites. Panasonic has also developed phosphors that are resistant to "burn-in." Cost is around $20,000. Panasonic.com
SONY RDR-HX715 PVR/DVD RECORDER
Tapeless VCRs, better known as personal video recorders or TIVO-like devices, are among the hottest products of the past two seasons. These hard drive-equipped units consistently record the action, meaning, during the Super Bowl, you can do your own instant replays or playbacks. Satellite giants such as DISHNET and DirecTV, as well as cable companies and consumer electronics makers like Sony, are all offering PVRS. But now, Sony adds a dimension to the mix: DVD recording and PVR, with its RDR-HX715 model. The unit incorporates a 160GB hard drive and broad media compatibility with DVD+R/+RW/-R/-RW and +R double layer disc compatibility for larger recording capacity. The RDR-HX715 model also features a TV Guide On Screen interactive program guide, making it easy to find and record programming without monthly fees. Other highlights include HQ+ High Bit Rate Recording Mode and D-Matrix Noise Reduction System for enhanced image quality, a Quick Response GUI and Fast Playback with Sound. Cost:$700. Sony.com
DENON HOME THEATRE-IN-A-BOX
The D-M51DVS Personal Component DVD/Receiver with its 2.1 Speaker Package features Dolby Virtual Speakers, which produce a 5.1 surround listening experience using only 3 speakers (two satellites and a subwoofer) instead of five speakers. It features Dolby Digital Pro Logic II as well as DTS support for great surround sound in any room. The D-M51DVS also features Dolby Headphones, providing personal virtual surround sound for movies or music without disturbing others in the room. The Personal Component DVD/Receiver features a progressive scan DVD player and plays DVD-Video, CD-R/RW, Video CD, DVD-R/RW. It will also play Kodak Picture CDs, FujiColor CDs, as well as discs with MP3 and Windows Media Audio (WMA). Satellite speakers are wrapped in aluminum with finished wood end caps. The Subwoofer comes in an attractive free-standing wood cabinet. Cost: $800. Denon.com
SONY LOCATION FREE TV
Watch the action from any room in the house or anywhere in the world. This TV is perfect if you don't want to miss a minute of the game. Sony Electronics LocationFree concept is a portable personal broadband LCD television system that can be carried virtually anywhere across the country. Comprised of a 12.1-inch wireless touch screen LCD monitor and a base station, the personal TV system uses the industry's dual band wireless connection and high speed ethernet port to transmit data, transforming it into a mobile video entertainment powerhouse that enables users to enjoy television, video, internet browsing/streaming video, e-mail, and digital photos --- all without a PC. It can also be used to control most major brand A/V components in the home. Starting at $1,199. Sony.com
MAYTAG SKYBOX ROOKIE FRIDGE
The ultimate mini-fridge that not only has room for four cases of your favorite beverage, but also displays your favorite sports team backlit on the front door. The SkyBox Rookie Fridge, available at Home Depot stores nationwide, includes backlit front display panels available with slide-in team logo options from colleges, the NFL, NBA, NHL, MLB and NASCAR drivers. In all, more than 250 sports branding kits are available, with more on the way including kids, entertainment and family options. For convenience and mobility, the SkyBox Rookie Fridge includes four heavy-duty casters to roam with the unit from room to room. Also featured is a nifty, flip-top storage bin for bowls of snacks or to keep your favorite beverages on ice at the center of the party. Cost: $199. Maytag.com
TACTILE EFFECT SYSTEM
The TES 100 Couch Kit by Crowson Technologies is designed for those who demand the very best in realistic action. It adds an unbelievably accurate, powerful, and uniform tactile effect to all types of couches. For home theater enthusiasts who require high power output and have the highest standards, the TES 100 Couch Kit is a necessity. The TES 100 remains true to the artistic content of movies and music. It delivers the low frequency content in an accurate, natural and powerful way. Cost: $650 for Couch Kit, $340 for Chair kit. Crowsontech.com

Thanks for reading CBS NEWS.
Create your free account or log in
for more features.