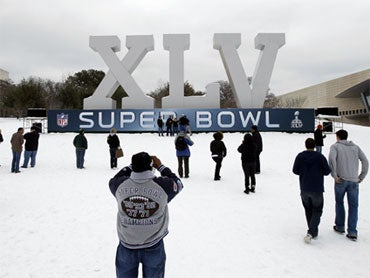 Super Bowl XLV Preview: Packers vs. Steelers
VENUE: Cowboys Stadium
TIME: 06:30 P.M. EST, Sunday, Feb. 6
DALLAS - The names have changed, but the traditions remain as strong as ever. The "Bradshaw" on the back of the jersey replaced by "Roethlisberger." "Nitschke" by "Matthews." "Lambert" by "Harrison."
But for all the individual star power that takes to the Cowboys Stadium turf Sunday evening, two simple words capture the enormity of Super Bowl XLV, hearkening the echoes and spirit of what the National Football League was, and continues to be.
Steelers. Packers.
The game can bear witness to the personal redemption of Pittsburgh quarterback Ben Roethlisberger and professional redemption of Green Bay signal-caller Aaron Rodgers. But even their particular subplots, intriguing as they may be, pale in comparison to the organizations they play for.
Complete Coverage of Super Bowl XLV
There are nine Super Bowl titles between the two clubs, with one more on the way. The memories of Vince Lombardi's powerhouses of the 1960's and Chuck Noll's dynasty of the '70s have been modified by more recent snapshots of Desmond Howard, Jerome Bettis and Santonio Holmes.
"You come here and see the pictures on the wall," said Steelers defensive lineman Chris Hoke. "Joe Greene and all those great guys on defense. Terry Bradshaw on offense, Franco Harris, there's too many to name.
CBSSports.com's Super Bowl Coverage
"You know there's a standard here, and you know that winning is an expectation. You're not hoping to win - you're expecting to win here."
On Sunday, others will step forward to meet those expectations and take a similar place in history. Or, in the case of a select few, cement their legacy as an all-time great.
One of those players is Roethlisberger, who, in just his seventh season, is already looking for a third championship. A win would put him in the esteemed company of Troy Aikman and Tom Brady, and just one behind the quarterback record of four, set by Bradshaw and Joe Montana.
Rapid Reports: Pittsburgh Steelers
But this one would be a little different, of course, as he overcame a tumultuous year marred by sexual assault allegations, trade speculation and a season-opening four-game suspension. Through it all, he seemed to change his ways off the field while still maintaining his stellar record of consistent winning between the sidelines.
"He's matured a whole lot," said receiver Antwaan Randle El, who returned to Pittsburgh (14-4) this season after spending the last four in Washington. "And that's evident from the first Super Bowl he played in to the one he played in '08. A very different quarterback."
His counterpart, Rodgers, has no such image problems - and no Super Bowl rings. Yet, for the first time in his pro career, he was able to step outside the long shadow cast by predecessor Brett Favre, build upon the individual successes of seasons past and translate his prodigious talent into big-game victories.
Rapid Reports: Green Bay Packers
"I think he's definitely the quarterback we all hoped he would become," coach Mike McCarthy said. "He was a young talented quarterback, had a very bright future, and now we're in year three of his development and he's definitely developed into a special player."
But the biggest test still remains. And it will be against a league-best defense that has done more than its part in carrying on the legacy of the Steel Curtain - with some stellar secondary play, to boot.
The unit held opponents to an NFL-low 14.5 points per game in the regular season and allowed just 62.8 yards per game on the ground - an amazing 27.3 yards less than the next-best team. Despite those numbers, it was a player from its backfield that walked away with defensive player of the year honors.
Though he missed two games to injury, Troy Polamalu tied for second in the league with seven interceptions - and rattled off countless other bone-jarring hits - which played a huge role in turning a number of close games Pittsburgh's way.
"You want to know where he's at on the field at all times because a guy like that, he's huge in making those game-changing plays and you don't want to give him the opportunity to do that, especially on this stage, because it'll ignite their team," said Green Bay wideout Greg Jennings.
Luckily for the Packers (13-6), they have their own defensive playmaker in Clay Matthews, who was nipped by Polamalu for the player of the year award. Despite all the press Rodgers and his fleet of receivers get for lighting up the scoreboard, Green Bay's defense finished second in the league in points and fifth in yards allowed.
"How fitting is it to be a Green Bay Packer and win the championship with defense? That sums it up right there," said nose tackle B.J. Raji, whose interception for a touchdown two weeks ago in Chicago played a critical role in getting the Packers to Dallas.
Raji will go up against a Steelers front five that will be without rookie Pro Bowl center Maurkice Pouncey. Pouncey suffered a high ankle sprain early in the AFC title game against the Jets, and, despite his best efforts at rehab, has been ruled out.
Doug Legursky will again fill in for Pouncey after doing a respectable job opening holes for Rashard Mendenhall against a formidable New York line. In some ways, stepping out of the shadows and into the spotlight is a theme that runs through this game, from players to coaches.
Pittsburgh's Mike Tomlin and Green Bay's McCarthy have separated themselves from the ghosts of Cowher and Holmgren past and created their own identity in these franchises' storied histories.
"I am very conscious of the legacy that is the Pittsburgh Steelers," said Tomlin. "I simply want to add to it. That drives me on a daily basis. I have big respect for the men who have had this job before me.
"All I want to do is to do the job in terms of upholding the standard that is the Pittsburgh Steelers."
Come Sunday, he'll get his chance.
Thanks for reading CBS NEWS.
Create your free account or log in
for more features.