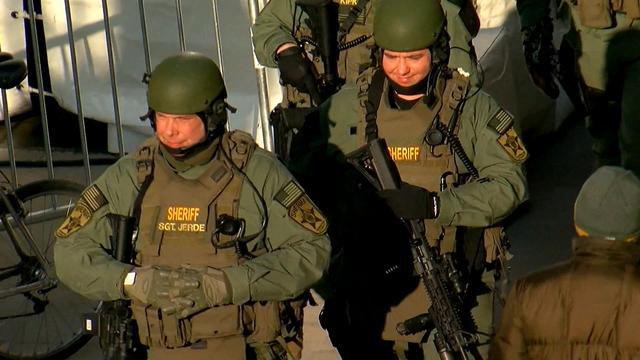 Massive security measures in place for Super Bowl Sunday
While the New England Patriots and Philadelphia Eagles ready for Sunday's game, law enforcement is preparing for a massive security operation. Nearly 2,000 federal agents are backing up the presence of state and local police in ways you can see – and in ways you cannot.
There is no specific or credible threat to Sunday's game at the U.S. Bank Stadium in downtown Minneapolis. But officials are asking fans to come four hours before kickoff to pass through all the security measures that will be in place.
From inside a Blackhawk helicopter patrolling above the stadium, customs and border patrol agent Michael Fuller explained to CBS News' Jamie Yuccas that a Super Bowl win for him means everyone stays relaxed and has a good time. Fuller's aviation and marine unit is flying six helicopters to keep eyes in the sky around the clock.
"We hope to be there as a deterrent, obviously, and to help everybody feel better, but in the end we need to be prepared just in case it really does happen," Fuller said.
The Super Bowl is categorized by the Department of Homeland Security as a level one special event, meaning it has the highest threat to public safety.
Everywhere there are fans, there is high-profile security. In addition to police in tactical gear with assault rifles, there are armored National Guard Humvees and barriers to protect pedestrians from vehicle attacks. Every car and truck entering the secured zone is x-rayed for explosives and chemical weapons.

Police in a high-tech incident center are looking for trouble on hundreds of cameras both inside and outside the stadium.
"We really need to make sure that as a symbol of our freedom for Americans to get together and enjoy their pastimes we have to make sure that their safety is first and foremost," said Minneapolis police chief Medaria Arradondo.
At least 60 other Minnesota law enforcement agencies are helping the Minneapolis police, along with 10,000 volunteers helping officials keep people safe. As for those fans standing in the cold on game day, the hospital across the street will be available to treat frostbite and any other cold-related injuries.
Thanks for reading CBS NEWS.
Create your free account or log in
for more features.