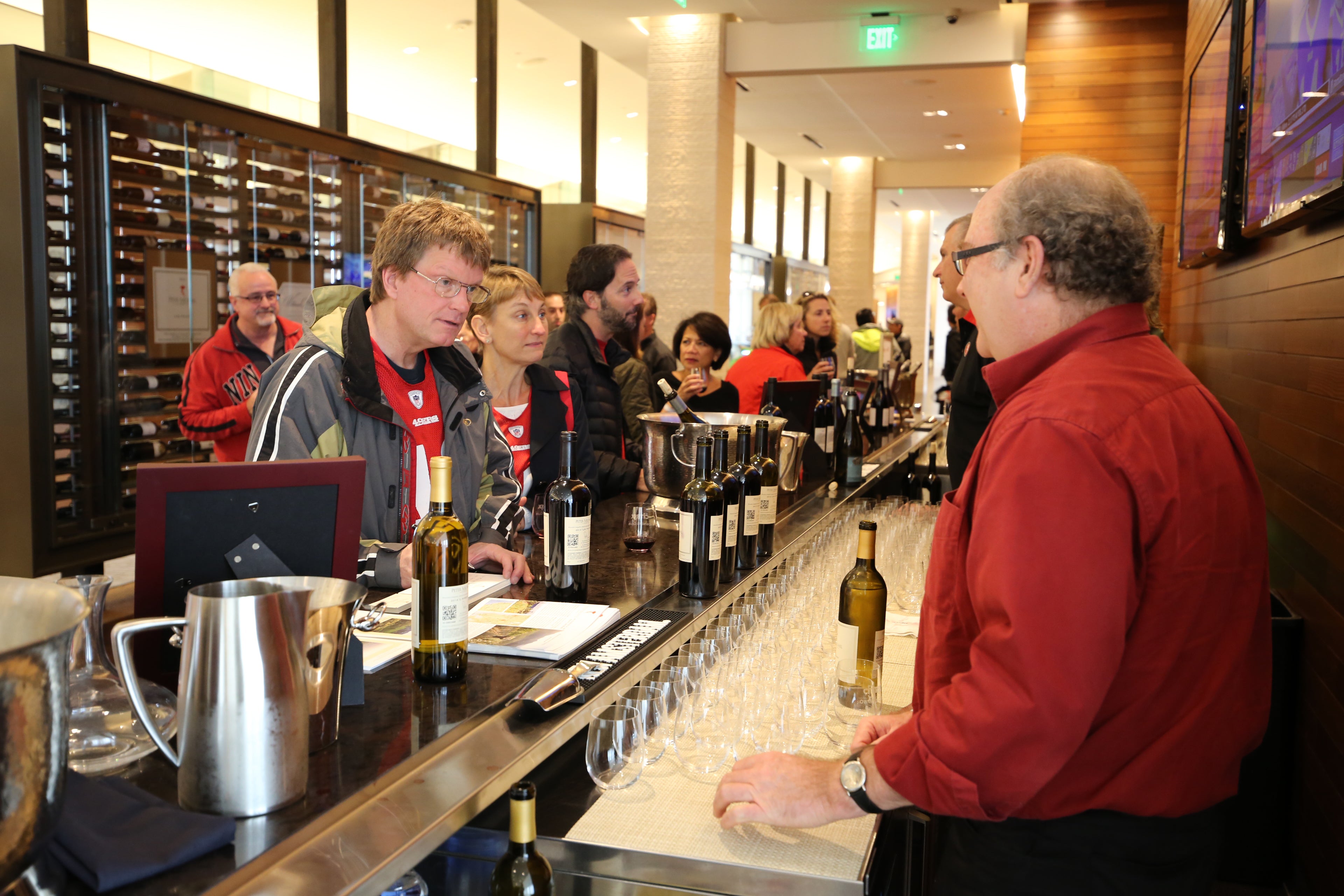 In California, a Super Bowl kickoff with Cabernet
For many football fans, suggesting an official game-day beverage other than beer would be considered blasphemy. For Dr. John York, that would be wine.
York is one of the owners of the San Francisco 49ers. To him, location is everything.
"It is northern California and you've got access to some of the best wines in the world," York said.
There are nearly a thousand wineries within 100 miles of Levi's Stadium, host of this year's Super Bowl. Wine is also big business in California - Napa and Sonoma have a nearly $40 billion impact on the state's economy. The industry has now become a big draw for the teams and some of the players based in the area, reports Dana Jacobson of CBS Sports Network.
York began hosting eight of them at every 49ers home game in 2014, in a program called "Appellation 49."
"To be honest with you, since wine is not associated with sports events, no one wanted to buy into putting wine throughout the building," York said. "So it really started here and, of course, there were four inexpensive wines that were down on the main floor, but as this has grown, better and better wines are served throughout the entire building."
The stadium will serve 16 wines in the general concession area at the big game, and 100 different California wines in the suites.
But it's not just the spectators who are imbibing - York even sees a growing interest among NFL players.
"You can find on every team, people who are interested in wine and want to know more about the wine and how to make it," York said. "And some get involved with the actual development and production of wine."
You could say that falling in love with wine is somewhat of a job hazard in the Bay area - just ask former 49ers quarterback Joe Montana, former Oakland Raiders quarterback Rick Mirer and the Raiders' free safety Charles Woodson.
After retiring from the league at the end of this season, the future Hall of Famer - also known as one of the NFL's best defensive players -- is now focusing on the wine label he started over a decade ago. Woodson showed one of his collections.
"The 2008, man, is just very... like my teammates would say, it's very smooth," Woodson said. "It's very Charles Woodson."
As is his new tasting room in the heart of Napa Valley, which feels more like a sports bar than a wine lounge, with nods to each of the stops in his prolific career -- the University of Michigan, where he won the Heisman Trophy and a national championship, the Green Bay Packers, where he won a Super Bowl and the Oakland Raiders, where Woodson both began and ended his professional career. It was with the Raiders when he also kicked off his love of wine.
"It was my first stint with the Raiders. I got drafted here in '98 and knew nothing about wine... Somehow I started drinking Merlot," Woodson said.
Woodson, like many in the Raiders' franchise, was introduced to wine while attending the team's annual training camp in Napa.
"Every time you went out, you're at a restaurant or at the hotel, people were drinking wine. And I'm coming out of college - it wasn't too much wine drinking, you know?" Woodson said.
But he discovered that he liked it. And in 2001, during his fourth season at training camp, he met winemaker Rick Ruiz, who talked Woodson into making a personal barrel, then helped him create his own label.
"He wanted to be involved. And I think that is why we're still here 16 years later, because Charles wanted to be involved in it," Ruiz said.
Woodson's hands-on approach quickly paid off, when his 2010 Cabernet made the Wine Spectator's Top 100 List.
"We got the cover of the Wine Spectator... which is huge in our wine world. I told Charles, 'This is like winning the Heisman. It's the wine Heisman,'" Ruiz said laughing.
"It meant a great deal. I mean, that's respectability in the wine community," Woodson said. "You know, the wine business is a funny business. People don't drink it because of your name. It's all about what's in the bottle. It's all about the juice as they say. It's got to be a champion. That's what I am, so the wine has to be the same thing."
Woodson will be in the Bay area next week making appearances and sharing his wine when possible. The entire wine industry is also getting in on the Super Bowl festivities -- among the highlights, a taste of Sonoma Wine Lounge at Super Bowl City in San Francisco and the Napa Valley Wine Train, running the big game train on Wednesday, where NFL players and even a coach-turned vinters will be on board, sharing their own wines.
Thanks for reading CBS NEWS.
Create your free account or log in
for more features.