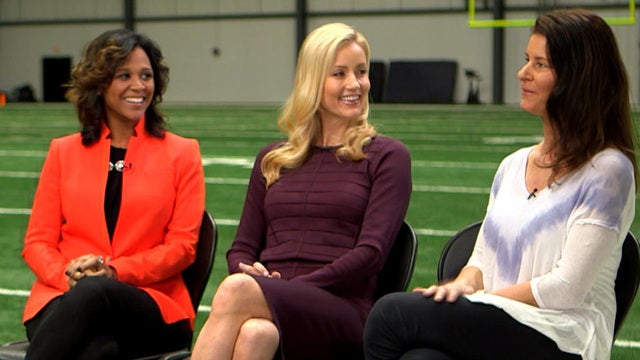 How wives of NFL champions deal with Super Bowl jitters
The road to Super Bowl 50 is exciting for the players and their families. While the Broncos and Panthers prepare for what happens on the field, the players' families are dealing with logistical challenges, and at the heart of it all are the women.
The teams do a great job of protecting Super Bowl bound athletes and managing expectations from the media, but it's their wives who often manage everything else, and it's not as easy as it looks, reports Dana Jacobson of CBS Sports Network.
"It's like somebody says, 'You have to plan a wedding in about 10 days,' and you're praying the whole time it doesn't turn into a funeral," Lisa McCaffrey said.
McCaffrey, Brittany Brees and Kirsten Watson are all married to Super Bowl champions, and they've all played a key role in the days before the game.
"You're kind of the gatekeeper, so to speak. So you're protecting your husband, you're making sure no added stress is put onto his plate," Brees said. "So you're making sure everyone has hotel rooms, everyone has tickets, everyone is happy."
"Because that can be stressful for them and for you. 'Cause you're, like, maintaining, you know, a good face for everyone that week," Watson said. "So all of that you kind of just take on, say, 'Okay, I got-- I got this part. You just go play football.'"
"As a wife you are trying to pretend like nothing's wrong. This is an average day," Brees said. "Nothing is going on. Somehow you feel, since you have no control that that is the one thing you can control are your own emotions." But in reality, she said, "You want to throw up."
The wives have insider stories that fans will never hear, like how the athletes juggle stress with their families.
"I know the day of the game, Drew and I personally laid in the room and watched a movie, which was so stressful because you know, you have all these emotions going through you," Brees said. "But you're trying to just hold it all in and just pretend like nothing's wrong: 'This is great, this isn't just an every day. It's a night game.'"
"It's a night game," McCaffrey agreed.
"Exactly, exactly," Watson joined in.
McCaffrey's husband, Ed, won three Super Bowls - one with San Francisco and two with Denver. When her husband won his first Super Bowl, she had just had a baby and was "overwhelmed."
"But by the third one, you sort of have it down a little better. And you know, 'Okay, I'm not going to bring my one-year-old who can't sit still. I'm going to leave him at home with the babysitter, but I'll bring the older ones that can handle a full four-hour game,'" McCaffrey said. "So you kind of get a little wiser as you go along."
Brees also brought her one-year-old when her husband won the Super Bowl.
"It's such a blur. I remember holding the baby and my mom's running with me and you don't know where you are. And confetti is flying everywhere and it's just this overwhelming kind of experience," Brees said. "I handed the baby to Drew-- really kind of safety. You know, 'Okay, just get him out of the situation.' And just seeing him just hold him gets you emotional."
The touching moment was captured in an iconic photograph, capturing the celebration of the Saints' victory.
But the experience may not be as picture-perfect.
"We were like throwing kids over the sides," McCaffrey said laughing. "We were like, 'Wait, there's no tunnel. There's no organized path.'"
Sports Illustrated captured a very different photo, showing her young son running by himself onto the field.
"And he was way too young to be by himself. Like, that was our parenting. So yeah, parenting fail again but it was a little more chaotic," McCaffrey recalled.
But the families must also cope with emotions from undesired outcomes. Watson was engaged to her husband Benjamin when he won his first Super Bowl and married when he played in his second, which he lost with the Patriots in 2008. "I just remember thinking, 'I think we're going to win.' So I was like... 'I'm just going to jump over and just run out there.' And then the ball dropped... and I just remember thinking, 'Oh no. This is not how it's supposed to end,'" Watson recalled. "And that night and that moment you're just like, 'All that work. You know, is it for nothing?' No.'"
Looking back, the veteran wives now have advice to offer to other women of NFL families who are embarking upon Super Bowl week with their families.
"I would say live in the moment. Just really try to soak it in and appreciate it and don't worry too much," McCaffrey said. "Everyone will be taken care of."
"I would say just the things that seem super important really aren't that important," Watson said.
"I wish I could go back and enjoy it. I think that that's probably my only regret of the entire time is, you know, you're so concerned with making sure everyone else is okay, but you don't get a second to take a deep breath and enjoy it," Brees said. "You just don't get a second to kind of, just realize just what happened."
While Brees and Watson are still hopeful they get to another Super Bowl, McCaffrey may see her sons get there sometime soon.
Her son, Christian, who was captured alone in the field when he was just two years old is currently a running back at Stanford University and a recent Heisman Trophy candidate. His older brother, Max, wore his dad's number while at Duke University, and may be entering the NFL next year.
Thanks for reading CBS NEWS.
Create your free account or log in
for more features.