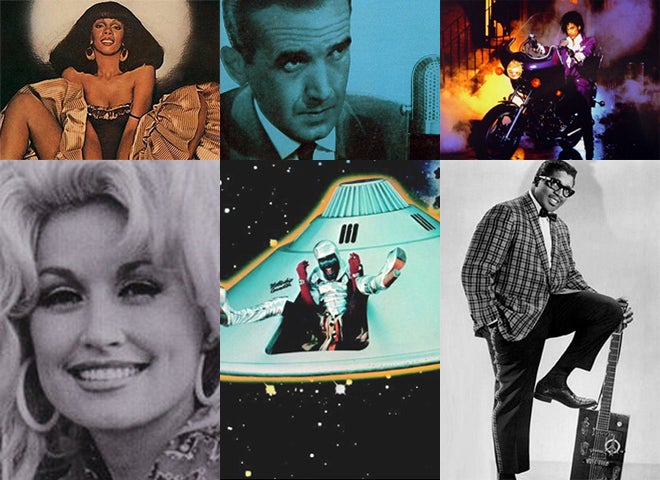 Summer, Parton join National Recording Registry
(CBS News) Recordings by musical artists as diverse as Donna Summer, Leonard Bernstein, Bo Diddley and the Grateful Dead, as well as documentary recordings featuring Edward R. Murrow and the voices of former Civil War-era slaves, have been marked for preservation by the Library of Congress.
On Wednesday, the Library named 25 audio recordings to its National Recording Registry, a compendium of sound recordings that will be preserved as representative of America's cultural, artistic and historic treasures. The registry contains commercial recordings of every music genre as well as spoken word, radio broadcasts, anthropological recordings and news.
Among the latest additions to the registry are performances by Dolly Parton, The Dixie Hummingbirds, Booker T. & the M.G.'s, Parliament, Sugarhill Gang, and Prince and the Revolution; the only surviving recording of early musical theatre star Lillian Russell; classical performances conducted by Leonard Bernstein and Fritz Reiner; recordings by jazz orchestra leader Stan Kenton, singing cowgirl Patsy Montana and the psychedelic rock band Love; and the Vince Guaraldi Trio's jazz-inflected score for the 1970 TV special "A Charlie Brown Christmas."
And the most unusual sound recording added? The voice for a talking doll, recorded onto a cylinder by Thomas Edison in 1888.
Under the terms of the National Recording Preservation Act of 2000, the librarian of Congress -- with advice from the National Recording Preservation Board -- selects 25 recordings annually that are "culturally, historically, or aesthetically significant" and are at least 10 years old.
This year marks the 10th anniversary of the registry, which now contains 350 recordings, including the earliest recorded sounds dating back to 1853.
"America's sound heritage is an important part of the nation's history and culture and this year's selections reflect the diversity and creativity of the American experience," said Librarian of Congress James Billington. "These songs, words and natural sounds must be preserved for future generations."
To see a complete list of this year's additions and to listen to audio samples of each, click on the gallery below.
Nominations to the registry are solicited from the public and the preservation board, which is composed of experts in music, recorded sound and preservation.
Do you have suggestions for future additions to the National Recording Registry? Visit the Library of Congress' website at www.loc.gov/nrpb.
National Recording Preservation Board (LOC)
National Recording Registry (Master list)
"Lost" recordings sought by Library of Congress
Library of Congress: Online audio collections
Thanks for reading CBS NEWS.
Create your free account or log in
for more features.