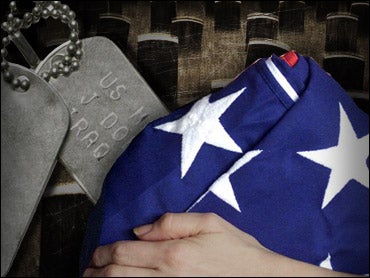 Suicides Seen Among Vets Treated By VA
There's new information about the risk of suicide for those who have served in the military. Last November, CBS News broke the story of the overwhelming number of veteran suicides nationwide. Now, Chief Investigative Correspondent Armen Keteyian has discovered veterans who get help from the VA are also at risk.
"When you go through war, you're going to change permanently and totally for the rest of your life," said veteran Harold Pendergrass.
Pendergrass knows firsthand the hidden wounds of war. He served two tours in Vietnam.
"I carried a suicide note in my pocket for years," he said.
At 57, the former Army soldier has tried to take his own life three times, constantly wrestling with thoughts of killing himself.
"I sat around numerous times with a .44 in my mouth," he said. "But for some reason, I just couldn't pull the trigger. I don't know why."
Now, CBS News has obtained never-before seen patient data from the Department of Veterans Affairs, detailing the growing number of suicide attempts among vets recently treated by the VA.
The data reveals a marked overall increase - from 462 attempts in 2000 to 790 in 2007.
"This is highly statistically significant," said Dr. Bruce Levin, head of the biostatistics department at Columbia University. Levin is one of three experts who analyzed the data for CBS News.
"I'd characterize it as something that deserves further attention," Levin said. "Overall the data suggests about a 44 percent increase and that is not due to chance."
According to the experts, two age groups stood out between 2000 and 2007. First, ages 20-24 - those likely to have served during the Iraq-Afghan wars. Suicide attempts rose from 11 to 47.
And for vets ages 55 to 59, suicide attempts jumped from 19 to 117.
In both age groups, the attempted suicides grew at a rate much faster than the VA patient population as a whole.
In addition, this VA study, also obtained exclusively by CBS News, reveals the increasing number of veterans who recently received VA services ... and still succeeded in committing suicide: rising from 1,403 suicides in 2001 to 1,784 in 2005 - figures the VA has never made public.
Rep. Bob Filner is chairman of the House Committee on Veterans Affairs. He's been critical of the VA's unwillingness to provide a full accounting of veteran suicides.
"These are incredible figures," he said.
"Does it surprise you that a study like that even exists?" Keteyian asked.
"Well, given the fact that we keep asking for data and they say, 'we don't have any,' yes, it surprises me," Filner said.
It angers Filner. "If we can't get the correct information, we can't do our job. We can't prevent every suicide but you can prevent a whole lot of them and it's our duty as a nation to do that."
The VA declined to speak on-camera about this story, but in an e-mail, said it "takes the issue of veteran suicide very seriously" and "has been doing a thorough data investigation to document the number of patient suicide attempts…"
It insists the patient suicides are "...consistent with national trends," despite recent studies that show veteran suicide rates are substantially higher than those of non-veterans.
But Harold Pendergrass worries the VA remains ill-prepared to handle the next generation of veterans who will be fighting the horrors of war … for decades to come.
"If what the VA is doing is not working then they need to change tactics," Pendergrass said. "They need to listen to these guys and listen not only with their ears but also with their hearts."

Thanks for reading CBS NEWS.
Create your free account or log in
for more features.