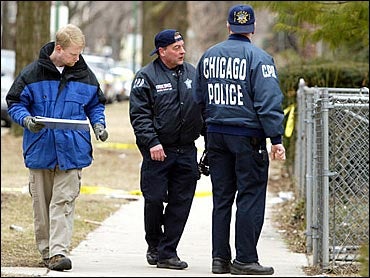 Suicide Note: I Killed Judge's Kin
When police pulled over Bart Ross' van on a rural Milwaukee street, they had no way of knowing it would be the biggest break yet in the Judge Lefkow murder case.
Ross shot himself to death upon being stopped by police in Wisconsin, and claimed in a suicide note that he killed a federal judge's husband and mother.
CBS News Correspondent Cynthia Bowers reports that the note appears to confirm Judge Joan Lefkow's worst fear — that her work cost her husband and mother their lives.
In the note, the 57-year-old Chicago man says Lefkow's ruling against him in a medical malpractice case, "cost him, his family, his job, and his home."
Police Chief Phil Cline said Thursday that two letters and a witness description appear to connect Bart Ross to the killing, but he stopped short of calling the 57-year-old Chicago man the sole suspect.
Cline said authorities believe Ross was the man a witness had described seeing near U.S. District Judge Joan Lefkow's home the day of the killings.
"We're satisfied that there's information in the letter that would point us to Ross being in Lefkow's house," Cline said.
The suicide note was found in Ross' van after he shot himself just outside Milwaukee, the source told the AP on condition of anonymity.
WMAQ-TV in Chicago said it also received a hand-written note Thursday signed by a Bart Ross, in which the writer describes breaking into the house of Judge Joan Humphrey Lefkow around dawn on Feb. 28 with the intent to kill her, the station reported.
Lefkow had ruled against Ross in a civil case involving a medical-malpractice lawsuit, a ruling that was upheld by a federal appeals court in January. Ross was also being evicted from his home and had a court date Thursday.
Cline cautioned that authorities were still searching Ross' Chicago home and comparing crime evidence to him.
"We are not prepared at this time to definitely say that any one person in responsible for these homicides," he said.
Lefkow, 61, found the bodies of her husband, attorney Michael Lefkow, 64, and her mother, Donna Humphrey, 89, on the basement floor of the Lefkow home the evening of Feb. 28.
Suspicion immediately turned to white supremacist Matthew Hale, who had been convicted of soliciting Lefkow's murder after she ruled against him in a trademark dispute. Investigators insisted, however, that Hale's followers and other hate groups were just one focus of the investigation.
James Finch, head of the Milwaukee FBI office, said Thursday that agents were not yet scaling back the investigation into the slayings because "we have not definitively tied this individual to the Lefkow murders."
Finch said he didn't know if agents had yet compared DNA and fingerprints found at the Lefkow home to Ross. Authorities have said that DNA from a cigarette butt found in a sink did not match anyone in the Lefkow family or anyone in the FBI's database of felons.
In the letter to WMAQ, Ross said he waited all day in a utility room in the basement and shot the judge's husband after being discovered. Ross said he then shot Lefkow's mother after she heard the gunshot and called out to her son-in-law.
"After I shot husband and mother of Judge Lefkow, I had a lot of time to think about life and death. Killing is no fun, even though I knew I was already dead," the station quoted the letter as saying.
Ross said he stayed in the house until about 1:15 p.m. before deciding to leave, according to the letter.
Ross was stopped by police in West Allis, Wis., Wednesday evening because his van had a faulty tail light, police said. As officers approached the car, he killed himself with a gunshot to the head, police said.
Police in the Milwaukee suburb declined to characterize the evidence found in the van. But a source close to the investigation told the AP on condition of anonymity the van contained a suicide note that also listed other judges.

Last September, Lefkow dismissed a civil rights lawsuit in which Ross claimed doctors at the University of Illinois-Chicago Hospital and its clinic had disfigured him, damaged his mouth and caused him to lose his teeth when they treated him for cancer from 1992 to 1995.
Among other claims, Ross alleged doctors committed a "terrorist act" against him by giving him radiation treatment without his consent. Defendants included the federal government, the state of Illinois, five doctors and four attorneys who had taken part in an earlier lawsuit filed by Ross that was dismissed by U.S. District Judge David Coar. Ross represented himself in the lawsuit.
Ross wanted Congress to impeach Coar and federal appeals court judges John Coffey, Frank Easterbrook and Daniel Manion for failing to reform the justice system and denying Ross' petition to move his case to a higher court.
Coffey's office is in Milwaukee. Judge Terence Evans, who was on the federal appeals court panel that affirmed Lefkow's decision Jan. 21, is also based in Milwaukee.
Evans said in a statement Thursday that he was notified early Thursday by U.S. Marshals about Ross's suicide. A receptionist at Coffey's office said he would have no comment.
In the letter to the television station, Ross said he "gave up further killings" after the Lefkow and Humphrey slayings, but approached the homes of a doctor and another judge who at one point he apparently planned to kill.
Ross was also about to face eviction from his home, according to Cook County Sheriff's spokesman Bill Cunningham. A lawsuit was filed in housing court Feb. 23 seeking to evict Ross, and sheriff's deputies tried three times in early March to serve Ross with court papers. The case was due in court Thursday.
Police have been unable to find any of the man's family. Chicago police Thursday cordoned off the street outside Ross' last-known address, a two-story home across from a high school on a tree-lined street on the city's North Side.
Jinky Jackson, 34, a neighbor, said Ross was wearing a neck brace as of a month ago. She said she would say hello to Ross when she saw him but he would not reply.
"He doesn't mingle with other neighbors," Jackson said. "He'd come home late and stay inside."
Thanks for reading CBS NEWS.
Create your free account or log in
for more features.