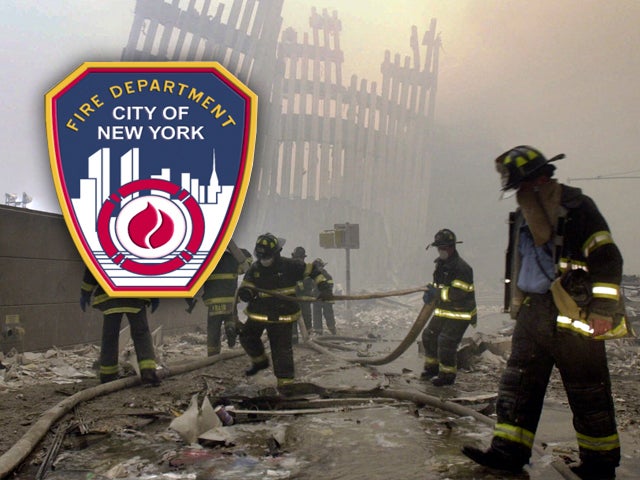 Study shows rise of cancer in 9/11 firefighters
NEW YORK - Right after the Twin Towers fell, fireman Ray Pfeifer arrived with Engine 40. Pfeifer tells CBS News medical correspondent Dr. Jon LaPook he joined the search for his fallen buddies.
"What we saw down there no human should ever have to see," he said.
He worked in a choking dust cloud - a brew of pulverized cement and known carcinogens such as asbestos, benzene, pcbs, and dioxin.
Complete Coverage: 9/11 anniversary
"We're in toxic soup," Pfeifer said. "Who knows what you were breathing in because it was so thick?"
Pfeifer worked on the pile at ground zero for seven months. Nine years later, "The doctor said to me, 'Ray, it's stage 4 cancer.'"
The diagnosis was kidney cancer that had spread to his bones. Doctors removed part of his leg, and hip and a kidney. He's not the only first responder who became ill.
"There are a lot of guys who are sick on this job," Pfeifer said. "A lot of guys, a lot of the guys got cancer."
The Lancet Medical Journal report is the first comprehensive cancer study of New York City Firefighters after 9/11. This federally funded study shows firefighters working at the site had ten percent more cancers than the general public and 19 percent more cancers than firemen not involved. In all, there were 263 cancers among almost nine thousand exposed firefighters.
"This represents up to 38 extra cancers in the seven years we studied," said Dr. David Prezant, chief medical officer of FDNY, and the lead study author of the Lancet report.
"Would you say that the strength of this association with cancer is mild, moderate or strong," LaPook asked.
"I would say it's a moderately strong association," Dr. Prezant replied. "The biggest surprise was that cancer increased. But that increase is real and now we need to address it."
Pictures: Ground zero health crisis
But some cancer experts insist the cancers in 38 extra patients could have been by chance. It's too early to know for sure if 9/11 exposure is the cause.
"I would draw no definitive conclusion from it at this point. One wouldn't expect to see an elevation in solid tumors so early in seven year period. Usually it takes decades," said Columbia's Dr. Alfred Neugut who studies the link between environment and cancer. "Normally in cancer epidemiology we want to see elevations in specific cancers because you don't expect something to elevate multiple or all cancers."
Still, many families of first responders are convinced their loved ones' exposure after 9/11 caused their cancer. Firefighter John McNamara's oncologist told his family it may have caused his colon cancer.
WATCH: Cancer kills 9/11 firefighter
"We started talking to the doctor, who just couldn't believe the aggressiveness of the cancer," said John's widow Jennifer. "And I think that's when we realized -oh my God - this is what it's from."
McNamara, who was healthy on 9/11, worked the pile at ground zero for 500 hours. In 2009, he died at age 44.
Pfeifer believes his cancer - which has come back - is related to his work on the pile. Even so, he'd do it again because he was searching for his buddies. "I had a good friend of mine's son asked me, 'Ray are we ever going to find my dad,'" Pfeifer said. "This is what this kid said to me. And I think we gave a lot of closure to a lot of families."
A federal report released in July concluded there was not enough evidence that toxic dust workers were exposed to caused cancer. That means for now, first responders are ineligible for federal money to treat, or compensate their families for cancer.
Thanks for reading CBS NEWS.
Create your free account or log in
for more features.