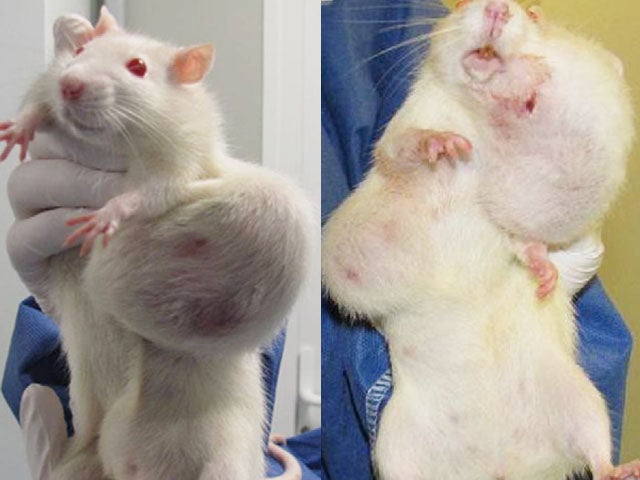 Study says genetically modified corn causes tumors, but other scientists skeptical about research
(CBS News) A French study that supposedly shows that mice who ate genetically modified corn sprayed with weed killer were more likely to develop tumors, organ damage and die early is becoming a polarizing debate among researchers.
The two-year study, which was published on Sept. 19 in Food and Chemical Toxicology, revealed that mice who were fed either a diet of Monsanto's genetically modified maize sprayed with Roundup - the company's brand of weed killer - or drank water with levels of Roundup similar to what is found in U.S. tap water were much more likely to die and at an earlier age, in addition to other health problems.
Watch: Flap over "Agent Orange corn"
Watch: New GMO crops proposed, consumers want labeling
Genetically modified crops resistant to 2,4-D spur debate labeling
According to the USDA Economic Research Service, as of 2011, 76 to 96 percent of corn crops had some sort of genetic modification, depending on which state they were grown.
The study involved 200 albino Sprague-Dawley rats - 100 hundred females, 100 males. The rats where then divided into groups of 10.
Six of the groups were fed varied diets with genetically modified products. Six groups - three male and three female - were fed Monsanto GM maize with Roundup weed killer consisting of 11 percent of their diet, 22 percent or 33 percent. Six other groups were given Monsanto GM maize in the same percentage amounts, but had no Roundup sprayed on them. Another six groups were given Roundup weed killer in their water similar to the levels found in U.S. tap water.
The remaining two groups acted as control groups and were fed non-genetically modified maize and water without Roundup weed killer.
The results showed that female rats were two to three times more likely to die than the control group. Fifty percent of the males and 70 percent of the females eating Monsanto GM maize died earlier compared to 30 percent of males and 20 percent of females not eating genetically modified products. Female rats seemed to be more negatively affected by genetically modified corn diets whether it was sprayed with Roundup or not.
Tumors seemed to be late-developing, large mammary tumors, and the affected rats suffered from severe liver and kidney damage. The tumors did not metastasize or spread to other body parts, but were so large they blocked organ function in the rats.
"After one year, there was a . . . high increase in the number of tumors," lead author Gilles-Eric Seralini, a biologist at Caen University in Caen, France and president of CRII-GEN's scientific board, said in a press call with the Washington Post.
He added that most of the female rats had two or three tumors, and most developed tumors after the fourth month in the study.
There were some reported findings some considered strange, however. Rats that ate the higher percentages of genetically modified corn did not get as sick as those who were eating the lower percentages.
Critics also have taken issue with the study's methodology. Specifically the researchers' choice of rats are known for their propensity to develop mammary tumors if their diet is not controlled. Also, the control group of just 20 mice is rather small and makes it hard to draw conclusions from comparisons.
Some experts pointed out to the BBC that the pictures of the rats with the tumors were misleading.
"The most evocative part of the paper is those pictures of tumorigenesis," said Maurice Moloney, a research biologist at Rothamsted Research in Harpenden, England, said to the BBC.
He said the authors mislead readers to believe that these tumors never happen in control groups.
"I'd be surprised if it didn't, but that ought to be explicitly demonstrated, and if there was a control that ended up showing similar kinds of tumorigenesis then a picture of that rat should be shown as well, just so we can see if there are any qualitative differences between them," Moloney said.
Monsanto spokesman Thomas Helscher said the company would review the study and asserted the products' safety, according to Reuters.
"Numerous peer-reviewed scientific studies performed on biotech crops to date, including more than a hundred feeding studies, have continuously confirmed their safety, as reflected in the respective safety assessments by regulatory authorities around the world," he said.
The FDA added that the agency is neutral on the report to the Washington Post.
"We will be in a better position to respond after we have more data and have had time to review the paper," Shelly L. Burgess, a spokeswoman for the agency, said to the paper.
However, some people feel that the results are being dismissed too quickly.
Reuters reports that the French government has asked the country's watchdog to investigate the findings. It also reports Austria's minister for agriculture and the environment called on the European Commission to review its approval process for GM foods.
"One thing is clear: Given this study the European Commission has to rethink its verification practices and the approval process must get an in-depth review," Austria's Niki Berlakovich said in a statement.
Gary Ruskin, campaign manager for Yes on Proposition 37 - a California initiative that aims to get labels placed on genetically modified food - said in a statement that the study was the first-ever, peer-reviewed research that took a look at the effects of genetically modified products over a long period of time. Calling the results worrying on the Right To Know blog, he pointed out that genetically engineered foods have not been adequately researched, and it is still unknown if they are safe.
"This new study is destined to raise more questions than it answers," he said. But at this point, a few things are clear. It is outrageous and shocking that this is the first long-term feeding study, even though genetically engineered foods have been on the market for nearly 20 years."
Ruskin pointed out that 50 countries around the world already require labeling.
"These findings underscore the importance of giving California families the right to know whether our food has been genetically engineered in a laboratory," he added.
"I think these are very important findings," added Dr. Michael Antoniou, a molecular biologist at Kings College, London who acted as an adviser to Seralini's team, said to the BBC.
"At the very least, what this study highlights is: firstly, the need to test all GM crops in two-year, lifelong studies; and, secondly, when looking at testing the toxicity of herbicides/pesticides, we need to test the full agricultural formulation and not just the active ingredient," he added.
Thanks for reading CBS NEWS.
Create your free account or log in
for more features.