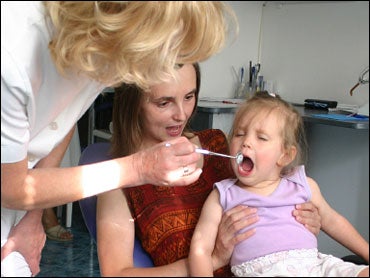 Study: Kids with toothaches more likely to have lower grades, miss more school
(CBS News) Toothaches may lead to learning pains in the classroom, according to a new study from USC's Ostrow School of Dentistry.
Children in the Los Angeles School District who had tooth pain were four times more likely to have a grade point average below the median GPA of 2.8.
Ex-Surgeon General: "We have tended not to see oral health as a part of overall health"

"Our data indicates that for disadvantaged children there is an impact on students' academic performance due to dental problems. We recommend that oral health programs must be more integrated into other health, educational and social programs, especially those that are school-based," corresponding author, Roseann Mulligan, chair of the school's Division of Dental Public Health and Pediatric Dentistry, said in the press release.

Researchers previously determined that 73 percent of disadvantaged children in Los Angeles have dental problems. A recent New York Times report said that more preschoolers are showing up to dentists with multiple cavities - as many as 10 in one visit - and require surgery under anesthesia because the tooth decay is so prevalent.
About 1,500 socioeconomically disadvantaged elementary and high school children in the Los Angeles Unified School District were looked at for the study, which appears in the September issue of the American Journal of Public Health.
In addition to lower grades, tooth problems were also found to contribute to more sick days. Elementary children missed a total of six days on average annually, and high school children were home from school 2.6 days. Dental problems accounted for 2.1 days of missed school for elementary students and 2.3 days for high school students.
Eleven percent of the students with no accessible dental care missed school due to dental problems, compared to only 4 percent that could see a dentist.
"That shows oral health problems are a very significant factor in school absences," Mulligan said. "Also, parents missed an average of 2.5 days of work per year to care for children with dental problems."
The Centers for Disease Control and Prevention reports that 25 percent of non-Hispanic white children between 6 and 8-years-old and 40 percent of Mexican-American children in the same age group have a pressing dental issue.
Former surgeon general Dr. David Satcher previously told HealthPop that medical professionals feel oral health care doesn't get enough attention in this country. Poor dental health has been linked to infectious disease and immune system problems. He pointed out that 50 million Americans live in areas where they can't easily visit a dentist, and it is important that more effort is made toward getting minorities access to proper dental care.
Thanks for reading CBS NEWS.
Create your free account or log in
for more features.