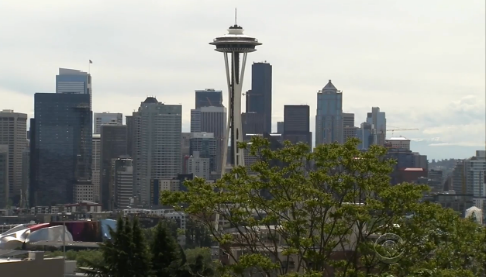 Study: Housing prices are back to pre-2008 levels
The housing market is back -- and a new study shows that prices are where they were before the bubble burst in 2008.
Eric Rothenberg has been looking for a home in the Seattle area for the past six months. He says every time he's ready to bid on a home, there are five buyers ahead of him.
"I am prepared to get into a bidding war but there's going to be a point where it's gonna top out, where I'm gonna have to walk away," Rothenberg said.
Seattle is one of the hottest real estate markets in the country. In 2012, the median home price fell to $308,000 after the housing bubble.
Now, it's $550,000 -- a 78 percent increase.
"I've gotten 10, 12 offers on homes," said real estate agent Michael Doyle.
"We got a very limited supply, so job growth plus limited supply have created the environment that we're in," he said.
Since the housing crash in 2007, U.S. home prices have slowly rebounded. The average home price for September crept above pre-recession levels by .1 percent. Nationally over the past year, prices soared 5.5 percent.
While the housing market is strengthening, home ownership is still at a five-decade low.
In Sacramento, California, buyers who bought before the crash welcome the rising prices.
"It's great, we're back up to where we paid, maybe a little bit above, and it's good for the economy," said homeowner Dan Tackett.
CBS News asked David Blitzer, chairman of the S&P Corelogic Case-Shiller National Home Price Index, if this is in general good news or if there's something for people to be concerned about.
"I think it's generally good news," Blitzer said.
"One reason is it makes people feel a little more wealthy and a little more confident about the economy," he added.
On the flip side, lenders are still reluctant to grant mortgages to many qualified lower-income buyers. The cost of houses is now rising much faster than incomes.
Thanks for reading CBS NEWS.
Create your free account or log in
for more features.