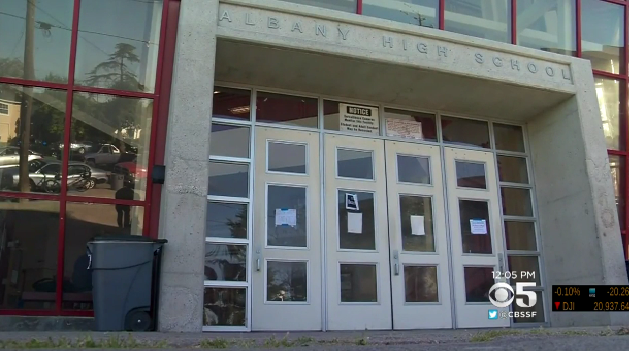 Students suspended for "liking" racist Instagram posts sue school
SAN FRANCISCO -- A California school district suspended a high school student after racist images that included nooses drawn around the necks of a black student and coach appeared on his social media site.
But a federal lawsuit says Albany Unified School District went too far when it also disciplined four Albany High School students -- three of them Asian -- who indicated they "liked" the posts on the Instagram account. The suit, which was filed Monday in San Francisco on behalf of the students, accuses the school district of violating students' free speech rights.
CBS Sacramento reports the students say the district had no right to discipline them because the offensive posts were on a private account that had no connection with any official school activity or school account.
"This to me is no different than having a private drawing book and making some offensive drawings at home and sharing them with a couple of friends," said Alan Beck, an attorney for the four students who "liked" or commented on the offensive Instagram account. "Does the school have the right to ruin my life over something I was doing at my house?"
Legal experts say the lawsuit will present federal courts with another opportunity to decide how strictly schools can regulate student speech. And it raises thorny questions about whether "likes" on social media should be treated similarly to the original posts.
"'Likes' are ambiguous in that they could be saying, 'This is funny,' 'I agree with it,' or 'I don't agree, but I want to stand up for your right to say it,'" said Eugene Volokh, who teaches free speech law at the University of California, Los Angeles.
One of the students replied "yep" to another comment, according to the lawsuit. Another student commented that the account "is only targeting black people." The other two students "liked" a few of the images posted on the account.
The lawsuit claims the district brought suspended students before the student body at a "public shaming" session during which they were cursed and jeered.
At a meeting later the same day, two suspended students were injured by an angry protester, according to the suit. The four students seek unspecified damages and a court order removing the suspensions from their records.
The racist post on an Instagram account of a student at Albany High School surfaced in March, leading to protests by students and parents. Albany is an affluent community adjacent to Berkeley, a city that prides itself on its liberalism and political correctness. The posts also included a photo of a black person next to an ape and jokes about students' weight and looks.
Superintendent Valerie Williams said in a statement that the district is reviewing the lawsuit, but it intends to take "appropriate action in responding to it."
"The district takes great care to ensure that our students feel safe at school, and we are committed to providing an inclusive and respectful learning environment for all of our students," she said.
The student who owned the account is also facing expulsion, according to his attorney, Cate Beekman. She declined to provide his name. He has not filed a lawsuit.
Schools have broad authority under federal law to limit speech at school that they consider disruptive, according to First Amendment scholars. But courts have disagreed about whether schools can punish students for off-campus speech that causes disruptions at school - a more likely scenario these days with the reach of social media - said Aaron Caplan, a professor at Loyola Law School in Los Angeles.
"In my own view, students are entitled to speak just like everyone else when they are off campus," Caplan said. "The school should not say, 'You engaged in free speech over the weekend on your own time, but we will punish you because your speech has ripple effects that we don't like.'"
Volokh said California does not give schools extra authority to limit speech on campus, so the students in this case could prevail under state law.
The school district, however, might argue that the nooses were threats, and that speech wouldn't be protected, he said.
But even then, "likes" are too ambiguous to be treated as threats themselves, he said.
Darryl Yorkey, another attorney for the four students, agreed.
"People of this age click 'like' to pretty much everything, and they'll respond in grunts and single syllables to pretty much anything," he said.
CBS Sacramento reached out to the school district for comment, which has not yet responded.
Thanks for reading CBS NEWS.
Create your free account or log in
for more features.