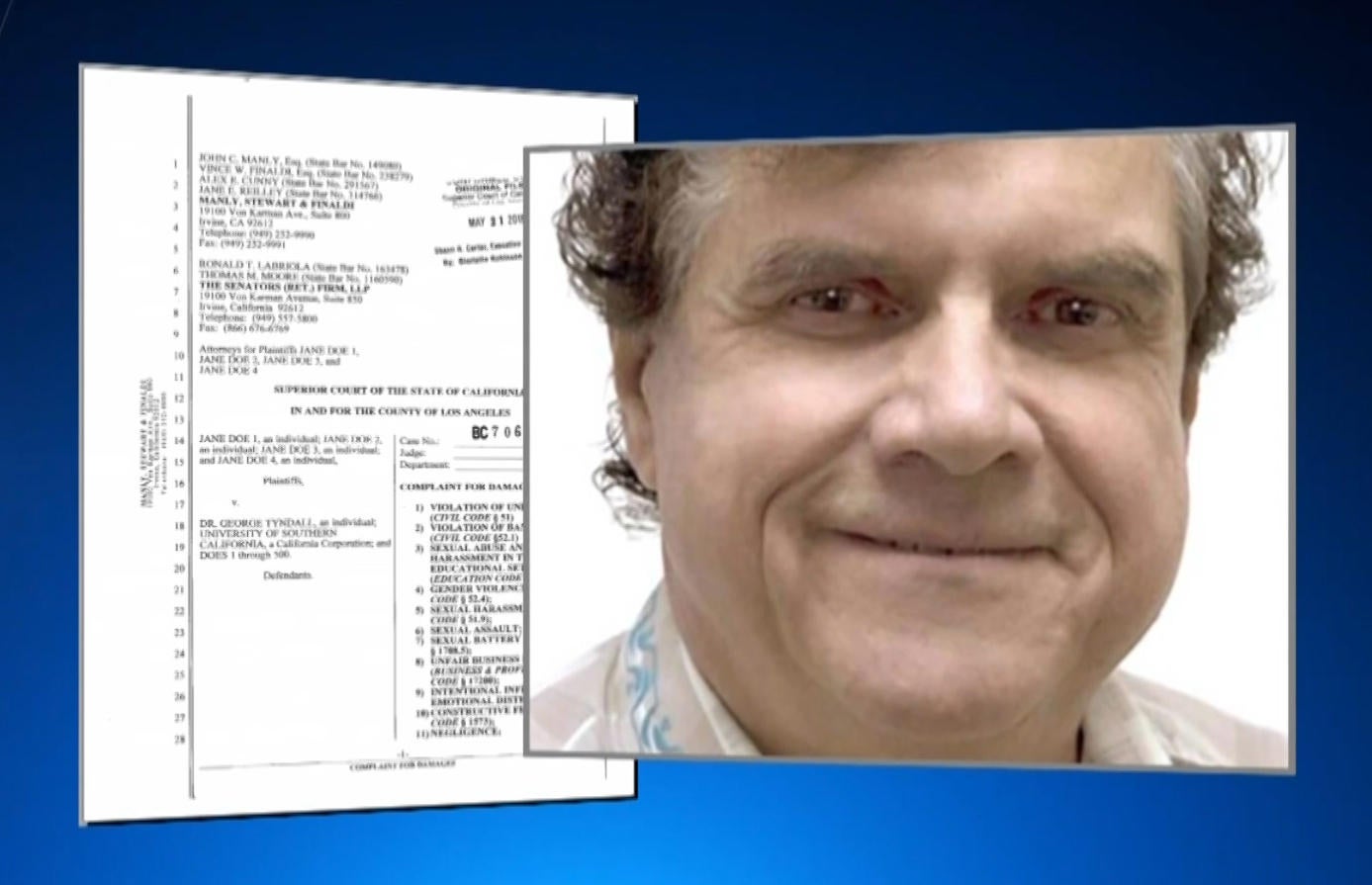 Students say USC "deliberately concealed" gynecologist's sexual abuse
Four former students are suing the University of Southern California, claiming that the school intentionally hid the alleged sexual misconduct of longtime campus gynecologist Dr. George Tyndall, CBS Los Angeles reports.
The lawsuit, filed in Los Angeles County Superior Court Monday against USC and Tyndall, alleges that "despite the fact that USC has publicly admitted that it received numerous complaints of Tyndall's sexually abusive behavior, dating back to at least the year 2000, USC actively and deliberately concealed Tyndall's sexual abuse for years, continuing to grant Tyndall unfettered sexual access to the young female USC students in his care, all to protect USC's reputation and financial coffers."
The complaint alleges that Tyndall, who was the Engemann Student Health Center's only full-time gynecologist for nearly 30 years, forced the women to strip naked on multiple occasions, during which he "groped" and "digitally penetrated" them.
One accuser claims Tyndall "grazed his ungloved fingers over her entire naked body, including her breasts, while another accused the doctor of forcing her "to strip completely naked, so that he could leer at her for his own sexual gratification."
"This action seeks to vindicate the rights of four young women who were sexually abused, harassed and molested at the hands of serial sexual predator," the complaint reads.
The suit seeks damages for sexual abuse and harassment, sexual assault, sexual battery, unfair business practices and negligence, among other things.
A statement regarding the lawsuit from USC Provost Michael Quick reads, in part, "I apologize to our students who were mistreated by Dr. Tyndall. This should never happen to anyone, least of all to one of our students."
Outrage has grown over USC's handling of Tyndall since the school acknowledged last week that it had received complaints about him since the early 2000s.
In a letter dated May 15, USC President Max Nikias announced that the school's Office of Equity and Diversity got a complaint about Tyndall in June 2016 and immediately launched an investigation, which included surveying 2,500 student patients. The school placed Tyndall, now 71, on administrative leave.
USC didn't terminate his employment until June 2017.
On Friday, the Los Angeles Times reported that about 200 more patients had come forward with complaints against Tyndall. The paper said some of those cases would soon be forwarded to the Los Angeles Police Department.
In addition to the accusations that Tyndall used racist and sexually inappropriate remarks, former colleagues had questioned his methods of pelvic exams, specifically, his practice of digital insertion before using a speculum.
"When you have this number of women who don't know each other saying the same thing, I think there's good reason to believe it," the plaintiffs' attorney John Manly told CBS Los Angeles. He added that many of the women had not been to a gynecologist before their contact with Tyndall.
"They didn't know what to expect, so he had their full trust, and he abused that trust and did things that ... no gynecologist should ever do," Manly added. "These are things you expect to see in pornography, not at your gynecologist's office."
The Times had been investigating Tyndall for months prior to the university's acknowledgment last week.
Also Friday, USC fired two longtime student health clinic administrators as a result of the Tyndall scandal.
Dr. William Leavitt, the lead physician at the Engemann Student Health Clinic, confirmed to the Times he was fired Friday afternoon. Tammie Akiyoshi, the clinical director at the health clinic, was also fired.
Former colleagues alleged Tyndall targeted young women, especially those from China and other Asian countries, for exams that included inappropriate touching and lewd remarks about patients' sex lives and bodies, the Times reported.
The Chinese government issued a pointed public statement Wednesday expressing "serious concerns" about USC's handling of Tyndall.
It's a troubling reality for Manly, himself a USC alumnus.
"This is USC," he said. "It's the most expensive university in the country. It's where I went to college. Everything at USC is first-rate, at least, that's what we're told. And the idea that you would be going to see a doctor who was engaging in sexual misconduct is beyond belief."
Thanks for reading CBS NEWS.
Create your free account or log in
for more features.