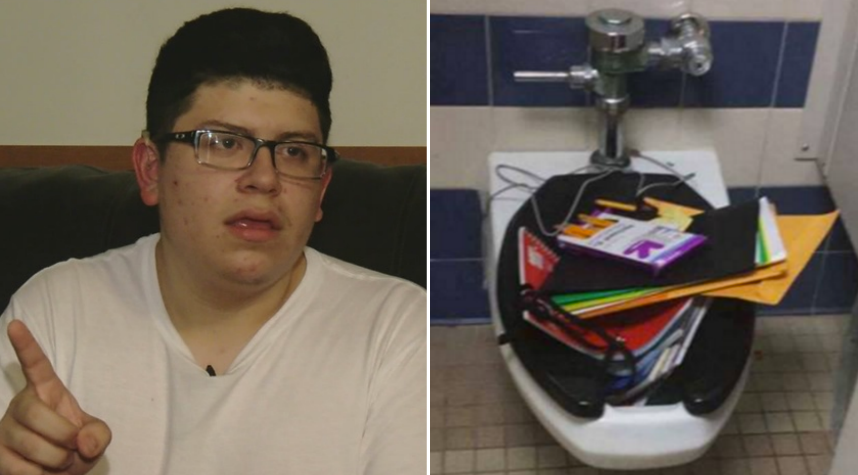 Students surprise bullied deaf teen whose backpack was dumped in toilet
The Internet was slammed with an ugly reminder last week when the story of how a deaf high school senior's belongings ended up in a toilet went viral: bullies still exist.
Alex Hernandez's sister, Analy Luevano, couldn't stay silent when he told her two students stole his backpack from the lunch room.
"[It] contained not only his tablet, debit card, and school supplies but it also contained homework and a project he worked really hard at," she posted on Facebook, sharing a photo of his soaked school supplies. "It was later all found but this is what they did with his school supplies and homework."
The Burke High School senior from Omaha, Nebraska, said he wanted to transfer schools after the incident.
But his peers are hoping their act of kindness will change his mind.
Students started raising money with a GoFundMe page to help replace some of the damaged items. They quickly reached their goal; and with an overflow of donations pouring in every minute, the creator has already shut down the page.
"Due to the increase and high donations we decided to stop the fundraiser," one of the students who apparently created the fundraising page tweeted. "We raised enough money for the student to replace his school supplies!"
The student was blown away by the support.
"I wanted to thank all of my friends and those who wrote me for supporting me," Hernandez told CBS affiliate KMTV​. "I am very happy. It made me feel like I am not alone."
Hernandez, who has been deaf since age 1, says he has endured years of bullying because of his disability, KMTV reports.
The Omaha Public School District is taking steps to ensure something like this never happens again.
"Our goal is to ensure that the student whose backpack was stolen feels comfortable and supported at Burke High School," Omaha Public Schools Superintendent said in a news release​. "He is here with teachers, staff and a school community who love and support him, and we will continue to do so."
After several interviews with students, school administrators said in a statement​ that they believe the students involved didn't know each other, and that "students targeted an unattended backpack versus an individual student."
Regardless, Hernandez's mom says there has to be consequences.
"It's not fair that the bullies think they can continue with this behavior," she told KMTV. "Today was my kid - tomorrow will be somebody else's."
Thanks for reading CBS NEWS.
Create your free account or log in
for more features.