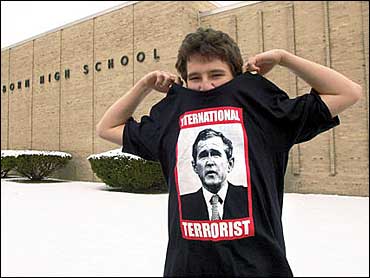 Student Wins Anti-Bush Shirt Clash
A Pennsylvania student is off the hook after the American Civil Liberties Union defended his right to wear a political T-shirt to school.
Chris Schiano's T-shirt said "International Terrorist" and had a picture of President Bush.
A security guard at his high school north of Philadelphia told him to take it off. He refused.
Schiano says he's well versed in the First Amendment. He says he "knew right off they had no legal footing to stand on."
The principal says after hearing from the ACLU, school officials realized that the shirt, while potentially offensive, didn't violate the school's dress code. It had no references to sex, drugs, ethnic intimidation or explicit language.
Schiano says he's now wearing the shirt to school and no one's given him a hard time.
In February 2003, school officials ordered a 16-year-old in Michigan to either take off a T-shirt emblazoned with the words "International Terrorist" and a picture of President Bush or go home, saying they worried it would inflame passions at the school where a majority of students are Arab-American.
The student, Bretton Barber, chose to go home. He said he wore the shirt to express his anti-war position and for a class assignment in which he wrote a compare-contrast essay on Mr. Bush and Iraqi President Saddam Hussein.

Thanks for reading CBS NEWS.
Create your free account or log in
for more features.