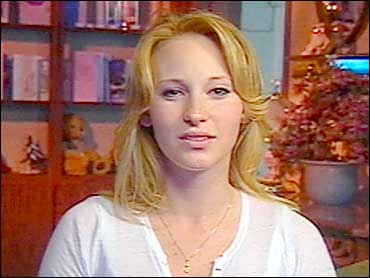 A few days into the war, Spec. Jeffrey Klein and Sgt. Matthew Koppi, mechanics of the Army's 3rd Infantry Division, found themselves stranded in the Iraqi desert when their truck broke down.
Help was supposed to follow but never did, leaving the two to fend for themselves in a war zone for what turned out to be an entire week. Finally, marines in Chinook helicopters spotted them on Friday and rescued them.
On The Early Show, Spec. Klein's wife, Pvt. 1st. Class Deanna Klein, described what she knew of her husband's misadventure.
She says her husband "was called out on duty to go get a truck. And his clutch went out, broke down, and they tried to assist it and they didn't get help from there so they did the best thing that they know how to do."
The soldiers were on the way to tow an officer's Humvee that had broken down as the division was traveling toward Baghdad. They said a staff sergeant ordered them to wait and said they would be picked up.
So for a week, the two dug trenches. "They dug what we call a foxhole in the military, and they did their fighting stance, and they rotated out shifts," explains Pvt. 1st. Class Klein.
They also gave food to the hungry Iraqi people. Pvt. 1st Class Klein, who is five months pregnant, says her 20 year-old husband of Independence Ky., thinks of others first. "As a soldier he'll put other people before him. As a soon-to-be father, he thinks of other people. It's not just all about him. He's really big on other people."
Sgt. Matthew Koppi, 22, of Asheville, N.C., wrote poems to his wife back home. Koppi had become a father 10 days before he was deployed. "It's totally like Matthew to give away his food and be writing poetry," his mother, Suzanne Koppi, told the Asheville Citizen-Times on Sunday night.
"I'm glad to know that under duress he is still who he is."
The soldiers were found Friday by Marines in Chinook helicopters. They were dropped at a desert battle outpost, and then taken to Camp Udairi in northern Kuwait by Col. Richard R. McPhee, who commands the 75th Exploitation Task Force, which was on a mission in southern Iraq.
As to why it took so long to find them, Klein's wife says she is not sure what happened. "I haven't been informed of too much. But what I do know, is that in the military, information can be misled, something could have happened to that staff sergeant to where he didn't get there in time. A lot of things could have come into play."
She didn't even know he was missing. "When he called me, I was actually driving home from his mother's house, and I didn't know that he was missing. I had no knowledge of this at all. And when he called me, I was crying just tears of joy to even hear his voice, to know that, you know, the guy I love so much is all right."
The soldiers were given a medical checkup, new uniforms and a hot meal. McPhee praised their resourcefulness and dedication.
"When we found them, they just kept saying that they wanted to return to their unit as soon as possible to be part of the battle," he said.
Thanks for reading CBS NEWS.
Create your free account or log in
for more features.