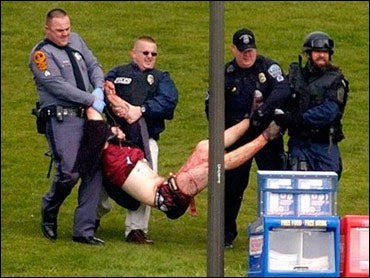 Story Behind Famous Virginia Tech Photo
Many a climactic event has yielded a single news photo that catches the moment, an iconic image truly worth 1,000 words.
At the end of World War II, we saw Marines raising the flag on Iwo Jima.
Twenty years later, we saw how a different war affected the people of Vietnam, a kneeling civilian being shot pointblank in the head.
In China, one brave man standing up to the tanks on Tiananmen Square.
From the wreckage of the Murrah building in Oklahoma City, a firefighter holding a baby girl.
And on Sept. 11, thanks to New York City firefighters, we saw that our flag was still there.
Such an image has emerged from the tragedy at Virginia Tech, a signature photo seen worldwide, to be long remembered.
CBS News correspondent Kelly Wallace said on The Early Show Thursday it's become one of the most identifiable images of the tragedy.
Splashed across front pages around the country, it shows senior Kevin Sterne being carried to safety after being shot twice in the leg.
Virginia Gov. Tim Kaine says it is "one of the images I remember, being in the airport in Tokyo, seeing that, and others who were there, other passengers flying all over the world, were watching the same thing."
It is, says Wallace, at once an image of terror, and triumph.
Sterne, an Eagle Scout, thought quickly and wrapped a chord around his leg. That slowed the bleeding, and saved his life.
---

Click here for an interactive gallery of the victims.

---
His pals at the campus radio station, where he's the chief engineer, say they're not surprised.

William Glynn, business manager of WUVT Radio, says Sterne "is the only guy to have that happen to him and respond in such a way. … It's not surprising. … He's resourceful; he just knows how to analyze situations like that and figure out what to do, and that's what he did."

Dr. Joseph Downing, a vascular surgeon at Carilion New River Valley Medical Center in Roanoke, Va., said, from what he has seen and heard about Sterne's injury, life or death would have been decided in minutes.

"This is a great Boy Scout," Downing told Wallace. "I don't think a lot of people would have thought of this … particularly in a traumatic environment … but someone's taught him to remain calm to be able to do this."

That someone is Sterne's Eagle Scout leader, Kevin Dolinar, who now lives in Wheeling, W.Va.

He was very gratified, telling Wallace, "The training he received as a scout saved his life. I mean, you have to be proud, proud that some of the work you do with the scouts actually paid off."

Sterne has the photo up in his room at Montgomery Regional Hospital in Blacksburg, Va.

Glynn couldn't resist poking fun of his friend, laughing as he said, "He's a little bit embarrassed that they caught him in his boxers, but, uhh — "

It was, Wallace observed, nice to have a reason to laugh when there have been so many tears. As students pay tribute to the lost at memorials across campus, and try to peel away the pain from each other, stories such as Sterne's bring some hope to a place that surely needs a lift.

Says Glynn, "I think that's exactly what we're going through at this point, is that we've lost so many people, so we should be thankful for the people we still have."

Sterne's parents met Wednesday with one of the troopers who carried him to safety, Wallace reports, but they declined her request for an interview, saying they, and Sterne, feel the focus should be on the families who have lost their loved ones.
Thanks for reading CBS NEWS.
Create your free account or log in
for more features.