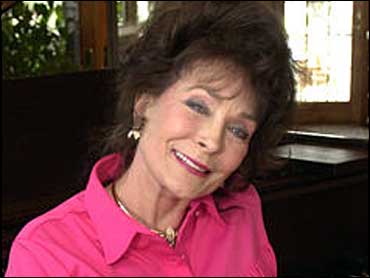 Loretta Lynn is walking through her living room unbuttoning her shirt. Suddenly, she flashes her bra.

Laughing at the discombobulation of a reporter, photographer, hairdresser and personal assistant, she quickly opens and closes her shirt several more times.

Lynn has revealed herself in hundreds of songs and a best-selling autobiography, published in 1976. The 1980 movie based on that book, "Coal Miner's Daughter," starred Sissy Spacek as Lynn and Tommy Lee Jones as her husband, Mooney Lynn.

You'd think she would have about covered it by now. Wrong.

In her new book, "Still Woman Enough," the Country Music Hall of Fame member writes about things passed over in the first book, such as a botched breast enhancement operation, and about the details of a harsh 12 years spent in Washington state before her singing career got going.

After getting a late start - she was a mother of four when she first sang in public - Lynn rose quickly to stardom, recording 16 No. 1 hits. Now, at 66, she looks much the same as always - long black hair, high cheekbones and a bright smile.

In her new book, she also reveals some bittersweet and brutal details of her 48-year marriage to Mooney. Lynn gives a sobering look at life with - and without - the man she called "Doo," who died at their Hurricane Mills home in 1996.

She writes of an alcoholic husband who beat her, spent her money and was repeatedly unfaithful. "I put up with it because of six kids," Lynn said. "And I loved him and he loved me."

The marriage proved grist for the writing of hits such as "Don't Come Home A'Drinkin' (With Lovin' on Your Mind)" and "Fist City."

"Every song that I wrote, he didn't know which lines were in there for him, but you can bet that half of it was about him," Lynn said. "And I could sing it and think, `I've told him that.' ... It helped my heart to know that I'd said it."

Born into poverty in Butcher Holler, Ky., Lynn married Mooney in 1948 when she was 13. He cast her aside for another women when she was pregnant with their first child. After reconciling, the couple moved to Washington state so Mooney could find work.

There, Lynn was a neglected - and sometimes abused - housewife and mother for more than a decade. But it was Mooney who bought her a $17 guitar and forced her to sing in public.

"I could never have done it on my own," she writes. "Whatever else our marriage was back in them days ... without Doo and his drive to get a better life, there would have been no Loretta Lynn, country singer.

"He pushed me every step of the way, starting with the time he bought me that Harmony guitar at Sears, Roebuck and told me to learn to play the guitar and sing. ... Shy isn't the word for what I felt onstage. Terrified is more like it."

Lynn said the happiest time in their marriage was when they toured the country together in 1960 to promote her first record, "I'm a Honky Tonk Girl." They had a common goal and were working together.

After she became a star, Lynn spent most of her time on the road while Mooney ran various unsuccessful businesses and then their family ranch. It was a lonely life for the singer, and when she was hom,e she found it hard to fit into her family.

"I felt like a money tree that had been shook," she said. "I never felt like I was needed, wanted, or anything. They all had their own lives."

Now, six years after her husband's death, Lynn lives in the shadow of her own myth, running a dude ranch and tourism complex about an hour west of Nashville. She lives in a house behind the larger one that she shared with Mooney. The big house is open to tourists during the summer.

She never felt comfortable there, Lynn said, because Mooney's girlfriends were in the house when she was on the road.

"Tammy (Wynette) and me used to laugh about the fact that we had these images we never lived up - or down - to," Lynn writes. "Tammy was right in the middle of dumping her husband when she recorded `Stand by Your Man.' ... And I was the one staying married and standing by Doo through God knows what."

These days, Lynn performs around the country on weekends, returning regularly to the ranch to do concerts.

"I go to bed when I want to, I get up when I want to, I eat when I want to," she said, then paused. "I miss Doo. I miss him a lot."

Last year, she went home to Butcher Holler to decorate her parents' graves. The trees are so high there that you can barely see the sky when you look up, she said.

"I looked around and I thought, `How did I get out of this place?' ... If it hadn't been for Doo, I'd still be back there."

By Jim Patterson
Thanks for reading CBS NEWS.
Create your free account or log in
for more features.