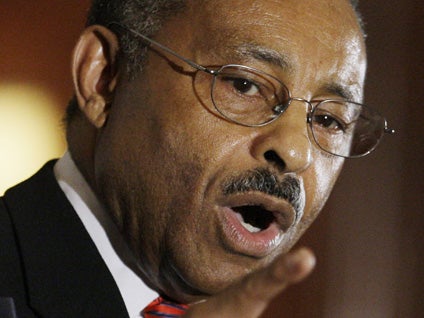 Steven Seagal: Muscled By The Mob
Action film star Steven Seagal testified that a crew of alleged mobsters demanded that he make movies with them — or else.
As he left a 2000 meeting with the men, Seagal claimed one told him, "If you would have said the wrong thing, they would have killed you."
Seagal was called as a government witness Tuesday at the racketeering trial of Peter Gotti, brother of the late crime boss John Gotti, and other reputed gangsters.
Authorities say Seagal — known for his martial-arts moves in films like "Under Siege", "Marked for Death" and "Exit Wounds" — was a victim of a bid by the Gambino crime family to infiltrate the film industry for profit.
Prosecutors say Seagal, 50, was extorted after a falling-out with his former business partner, Julius Nasso, an alleged Gambino associate.
Wearing an Asian jacket and blue jeans, the actor testified that he was menaced by defendant Anthony "Sonny" Ciccone, who allegedly demanded the actor pay the Gambinos $150,000 for each movie he made with Nasso.
"Look at me when I talk to you," Seagal quoted Ciccone as saying during one shakedown. "We're proud people. ... Work with Jules and we'll split the pie."
He testified he tried to "buy time" by agreeing to reunite with Nasso: "These were people who were not going to let it go."
Prosecutors say wiretaps caught Nasso being instructed to demand money from the actor. In a bugged VIP room at a Brooklyn restaurant in 2001, the suspects could be overheard chuckling over how "petrified" Seagal looked at a meeting, prosecutors said.
The actor told jurors he has a license to carry a handgun and had gone to the meeting armed.
"In New York, I always carry a gun," he said.
Defense attorneys deny any threats were made, saying Nasso was always businesslike in seeking to get Seagal to repay $500,000 he loaned the actor for taxes. In his opening statement last month, defense attorney George Santangelo called Seagal "a pathological liar."
On Tuesday, Santangelo asked Seagal if he once tried to hire a former CIA operative to kill someone.
"This is insane," Seagal shot back before the judge struck the question. "I'm not on trial here."
Seagal also testified that he never asked authorities to protect him from the mob.
"I'm a movie star," he said. "If you want to keep making movies, you don't want to start a war with these people."
In a brief interview outside court Tuesday, Seagal said he was forced by prosecutors to testify.
"I don't think I accomplished anything other than to comply with a government order to testify or go to jail," he said. "I didn't want to go to jail. I have six kids."

Thanks for reading CBS NEWS.
Create your free account or log in
for more features.