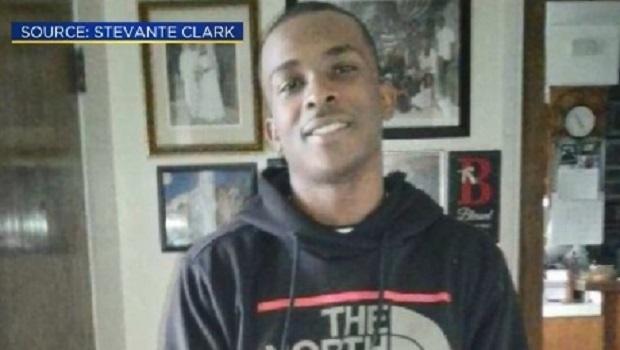 Sacramento police fatally shoot unarmed man holding cellphone in backyard
SACRAMENTO, Calif. -- Relatives, activists and Sacramento officials are questioning why police shot at an unarmed black man 20 times, killing him, when he turned out to be holding only a cellphone in his grandparents' backyard. Police in Sacramento released new video of the shooting. Officers said they thought he had a gun, but he was holding a cell phone, CBS News' John Blackstone reports.
Relatives have identified the man as Stephan Alonzo Clark, 22, according to The Sacramento Bee. His fiance, Salena Manni, the mother of his sons, ages 1 and 3, said his first name was Stephon.
"We're mourning right now and so we need our time to mourn," she said Wednesday as the family gathered in his grandparents' home.
Police say the man was spotted breaking at least three vehicle windows Sunday night. Sheriff's deputies in a helicopter say they saw him break a neighbor's sliding glass door.
Two arriving officers chased him into the backyard of his grandparents' home, where he was staying. The department says he refused orders to stop and show his hands. He advanced toward the officers holding an object extended in front of him, the department said. The officers thought he was pointing a handgun and opened fire, fearing for their safety, the department said.
In all, police fired 20 shots, Blackstone reports.
No gun was found and only the cellphone was found near his body when more officers arrived and approached him about five minutes after the shooting, the department said.
"He was at the wrong place at the wrong time in his own backyard?" Clark's grandmother, Sequita Thompson, told The Sacramento Bee. "C'mon now, they didn't have to do that."
"They will pay for this," Clark's brother Stevante told Blackstone. "You're going to know his name forever ... You're going to remember it like how you know Trayvon Martin, Mike Brown, Eric Garner, Tamir Rice. You're going to know him. You're going to remember this."
"I know there could have been another way. He didn't have to die," Stevante told CBS Sacramento.
The department could not say how many times Clark was hit, and the coroner's office was not releasing information until his relatives were notified. The department said the two officers have been with Sacramento police for two and four years, but each has four years' previous experience with other law enforcement agencies. Both are on paid administrative leave.
Clark routinely helped care for his grandparents at their home in south Sacramento, his cousin, Sonia Lewis, told Capital Public Radio.
Protesters took to the street on Monday night, gathering near the scene of the shooting on 29th Street. "It's very upsetting, it's very saddening to see people that look like you get killed over and over again in your city," said Tanya Faison from the Sacramento chapter of Black Lives Matter.
City Councilman Larry Carr decried the loss of life and said police must provide timely information. The department is required to release video from the helicopter and the officers' body cameras within 30 days.
Thanks for reading CBS NEWS.
Create your free account or log in
for more features.