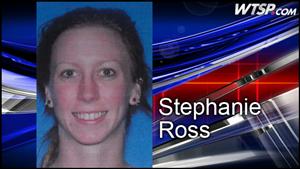 Stephanie Ross, Fla. case worker, stabbed to death by patient during home visit, police say
(CBS/AP) DADE CITY, Fla. - Stephanie Ross, a 25-year-old health care caseworker who visited a client at his home alone, was stabbed to death by her patient Monday, police say.
Ross reportedly knew there was something that made her "very uncomfortable" about the 53-year-old man, even previously writing in his file that two people should visit him in the future.
Yet Ross still traveled alone to Lucious Smith's apartment the morning of December 10th, and police said the ex-con with a history of violence inexplicably chased her down the street, stabbing her to death with a butcher knife.
Ross' death is not the first time an in-home visit by a health care professional has turned deadly. In fact, some states have added safeguards to prevent attacks, such as pairing them up with another worker for home visits or assigning a police escort, but the additional measures are sometimes too costly for states and private companies.
"It may be if the risk is too high you don't send two people out, you ask the client to come in or meet in a different place or postpone the visit," Tracy Whitaker, of the National Association of Social Workers, told The Associated Press. "Unfortunately, the money gets found after there's a tragedy."
Smith was being held without bail at the Pasco County jail on a first-degree murder charge. It is unclear whether he has an attorney.
Ross became a service coordinator for Maryland-based Integra Health Management in September and wanted to help people with chronic illnesses, the company said in a statement. She had been on the job for about a month when she first visited Smith in Dade City, a small city about 30 miles north of Tampa
It is unclear why Ross went on the visit by herself Monday, even after she had made a note that she felt "very uncomfortable" with Smith.
Although Smith's illness has not been released, it is known that Smith had previous trouble with the law. Authorities had received "50 or 60 calls" about him since 2006, ranging from trespassing to battery to drunken, disorderly behavior, Dade City police officer Brian Uppercue told The Associated Press. Neighbors said he argued with nearly everyone around him and was banned from a nearby convenience store.
Smith spent seven years in prison for aggravated battery with a deadly weapon and was released in 2005.
After the attack, Ross was driven to the hospital by a motorist who saw her lying on the street bleeding. She died a shortly afterwards.
According to an eyewitness, Smith sat outside his apartment after the stabbing and a few minutes later, police arrived.
"We knew right away that he was involved," Uppercue said.
Dee Brown, Integra's chief operating officer called the incident an "especially tragic loss."
"We take the safety and well-being of our employees very seriously and are committed to assuring ongoing compliance with existing safety practices and incorporation of measures that might further reduce avoidable risk to our employees," Brown said in a statement.
Thanks for reading CBS NEWS.
Create your free account or log in
for more features.