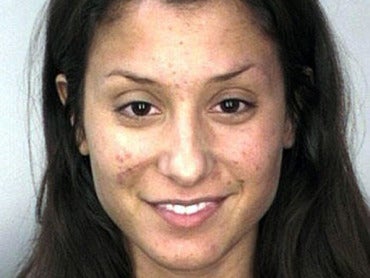 Stephanie Ragusa (PICTURE): Teacher Had Sex with Students, Gets 10 Years in Prison
Tampa, Fla. (CBS/WTSP/AP) A judge sentenced former Tampa middle school teacher Stephanie Ragusa to 10 years in prison, to be followed by 15 years probation, after she pleaded guilty to having sex with two underage students.
PICTURES: Notorious Teacher Sex Scandals
The charges stemmed from separate, repeated sexual encounters with a 14-year-old boy and a 16-year-old boy.
The 31-year-old math teacher apologized to her young victims and their families in a Hillsborough courtroom Monday.
"I never intended to harm anyone," Ragusa told the court according to CBS affiliate WTSP.
Prosecutors said Ragusa had intercourse with the 14-year-old on three occasions between Oct. 2006 and May 2007.
The relationship with the 16-year-old student began when he was 15 and ended after Ragusa's arrest in April 2008 when she was leaving the teen's home.
Both boys were students at Tampa's Davidsen Middle School, where Ragusa taught math. She and the younger boy met when Ragusa broke her foot and he was assigned to help her get around the school.
Ragusa's attorney presented a psychiatrist as a witness who testified that mental illness might have led to her risky behavior. The doctor said she is bi-polar, but has shown improvement with treatment.
Ragusa's father also took the stand and begged Judge Chet Tharpe for mercy.
But Tharpe sided with the victims, calling Ragusa arrogant and selfish.
"You have disgraced yourself, family and the teaching profession," Tharpe said according to WTSP.
Ragusa was sentenced to 10 years in prison and 15 years of strict probation, the maximum allowed by the plea deal.
MEDIA
PICTURES: Notorious Teacher Sex Scandals
MORE ON CRIMESIDER
April 12, 2010 - Stephanie Ragusa, Math Teacher, Pleads Guilty to Sex with Students Ages 14, 16
Thanks for reading CBS NEWS.
Create your free account or log in
for more features.