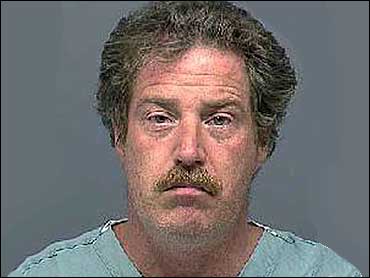 Step By Step In Oregon Killer Case
Medical examiners Monday confirmed what police expected to hear: that the second body found on Ward Weaver's property is indeed that of Ashley Pond, abducted earlier this year a few weeks before her 13th birthday.
She and 13-year-old Miranda Gaddis - whose remains were found in the same yard, and identified on Sunday - had disappeared from the same apartment complex, on Jan. 9 and March 8.
Pond's body was found in a barrel buried under a cement slab; Gaddis was found in a shed.
Police are proceeding carefully and have not arrested Weaver - who is jailed already, on an unrelated rape charge - and are instead waiting for the decision of a grand jury that will consider the evidence against the 39-year-old toolmaker, who has a history of violence against women.
"We will present the case to the grand jury and we will seek an indictment," Chief Deputy District Attorney Greg Horner told reporters late Monday. "We know how important this case is to the community. We will take the time to do it right... There is still a great deal of evidence to be examined and evaluated. The evidence is being processed by local, state and federal forensic experts."
Weaver's lawyer says the decision to go before a grand jury is what they expected. In July, Weaver said he was a suspect and proclaimed his innocence. Monday, he declined to make any public statement about the case.
He is being held in isolation, under a suicide watch.
The case against Weaver heated up on August 13, when he was arrested for raping the 19-year-old girlfriend of his son, Francis, and Francis then told police that his dad had confessed to murdering Gaddis and Pond.
The girlfriend, who ran naked from the Weaver house, told police that Ward Weaver raped her and then tried to smother her to death.
Weaver's daughter was in the same dance class as the two girls, and often had Pond over as a house guest. Pond also went along with the family last year on a vacation to California, which included a visit to Weaver's dad - a Death Row inmate who once buried a murder victim in his own yard.
Monday, relatives of Gaddis and Pond said they were frustrated and devastated to learn that the bodies were right there in the neighborhood all along.
"Detectives and police stood out here all hours with posters and they were right here all along," said Terri Duffey, Gaddis' aunt. "They came in an out of that driveway a hundred times, and they were right there - I mean, right there - and we couldn't do anything."
Some people have wondered why it took so long for police to search the Ward property, especially since he knew both girls well, had previously been accused of sexually abusing Pond, and was questioned by police early in the investigation.
Kristi Sloan, an ex-wife of Weaver, says she told police back then "everything they need to know. I told them about the cement that was poured in his backyard three days after Miranda came up missing."
Sloan also says she tipped police off to Weaver's family history: the father who'd killed and buried a woman in the yard.
"I think there were plenty of indications at the beginning - hints that people were giving - and they never acted on them," said one unidentified neighbor.
Others defend detectives as having moved as quickly as they could - within the confines of the law.
"It was simply a matter of getting the proper evidence in line - enough information - that they were able to go to a court and get the search warrant," explains FBI spokeswoman Beth Anne Steele.
"It's easy in hindsight to say 'Boy, they had enough, they should have gone in sooner' - but under the law, what you need is specific evidence to show that if you do the search, you'll find evidence of a specific crime," observes Laurie Levenson, criminal law professor at Loyola Law School.
The search of the Weaver property is not over.
Steele says investigators don't believe there are any more bodies on the property, but they "want to clear the property to make sure there's nothing else."
A security fence erected by police around the property has become a makeshift memorial - festooned with flowers, teddy bears, and handwritten notes in which people have expressed their grief.
Weaver's court-appointed attorney, Tim Lyons, says Weaver gave permission to dig up his property to speed up investigators' search for clues. "He wanted to provide some closure for the families," says Lyons, who won't reveal whether Weaver knew, or told police, where the bodies were.
"What I know, is the police took the time they needed, and they did it right. They found my granddaughter," said Wes Duffey, Gaddis' grandfather. "We are never going to forget what happened. This is going to hurt my daughter for the rest of her life."
The Duffeys also say now that they know what happened, they'll probably be moving away.
The murders are not the first pain and suffering to have come into the lives of the two families.
Both girls were sexually abused - Pond by her father, who got probation after pleading guilty to the crime, and Gaddis by a former boyfriend of her mother's. He was sentenced to 75 months in jail.
This is also not Ward Weaver's first brush with the law. Besides the rape case from two weeks ago, he served three years in prison for striking his son's babysitter with a chunk of cement. Both of his ex-wives have accused him of violence. And last year, Pond accused him of sexually molesting her, an allegation Weaver denied and did not result in any formal charges being filed.
In a KATU-TV interview Sunday, Weaver's son, Francis, said he's very glad his father "will never be able to hurt anyone ever again, nor destroy any lives."
Thanks for reading CBS NEWS.
Create your free account or log in
for more features.