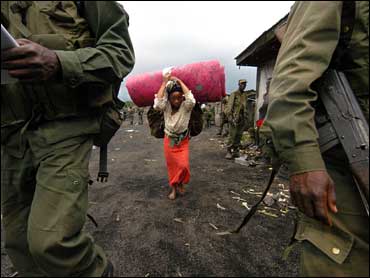 Stats Show Perils Of Living In East Congo
Imagine living with a 50 percent chance of being enslaved or threatened with death by an armed group. One-in-three odds of being tortured or wounded. A 12 percent chance of being sexually assaulted multiple times.
In some of the roughest parts of eastern Congo, such a life doesn't take much imagination.
These numbers are real for civilians in the country's three worst war-battered provinces, according to a new report based on rare polling data carried out by an international human rights group and the research centers of two prominent American universities.
Titled "Living With Fear," the report, released Tuesday, offers hard evidence on what many people in Congo already know: two years after the massive Central African nation held its first free elections in half a century, life is as dangerous as ever for many in the east despite the presence of one of the largest U.N. peacekeeping forces in the world.
Since the supposed end of a 1998-2002 war and the establishment of an elected government under President Joseph Kabila, "little has been done to address impunity within the security forces and armed groups or to reform the justice sector," the report said.
"Peace, social reconstruction, justice and reconciliation remain distant dreams in Congo."
Government officials in Congo could not immediately be reached for comment.
Though rich in diamonds, copper, gold and other minerals, most of Congo's people - including its security forces - remain poor and desperate. Kabila's government has struggled to end sporadic fighting in the lawless east, where marauding militias have held sway since Rwanda's 1994 genocide spilled chaos across the border.
Over the last year, skirmishes have broken out in the region between the army, militias and Congolese fighters led by rebel leader Laurent Nkunda. The fighting has displaced hundreds of thousands and rights groups have repeatedly accused all sides, including the ill-disciplined government army, of failing to rein in fighters who have targeted civilians suspected of supporting their rivals.
As CNN's Anderson Cooper first reported last January, it's the deadliest conflict since World War II. Within the last ten years, more than five million people have died and the numbers keep rising. As Cooper and a 60 Minutes team found when they went there, the most frequent targets of this hidden war are women.
The 60-page report was put together by the New York-based rights group, the International Center for Transitional Justice, the Human Rights Center at the University of California, Berkeley and the Payson Center for International Development at Tulane University.
It is based on interviews carried out between September and December 2007. Some 2,620 interviews were conducted in the three provinces hardest hit by violence - North and South Kivu, and Ituri, while 1,133 others were completed in the capital, Kinshasa, and the central city of Kisangani, which in recent years have been spared the clashes that have so affected the east. Interviews in those cities revealed less violence, but respondents nevertheless "frequently reported experiencing traumatic events."
According to the report: "Fewer than half the people surveyed felt safe sleeping, walking at night in their village, or meeting strangers."
In the three worst-hit eastern provinces, about 80 percent of respondents said they had been displaced at least three times in the last 15 years. Some 75 percent said their cattle or livestock had been stolen, and 66 percent said their home had been destroyed or confiscated.
About 61 percent of those polled in the east said they witnessed the violent death of a family member or friend, while about 60 percent said one more of their household members had disappeared and 34 percent said they themselves had been abducted for more than a week. An astounding 53 percent reported being forced to work or being enslaved by armed groups, while about 31 percent said they had been wounded in fighting, and 35 percent said they had been tortured.
The report said that of those canvassed in the east, 46 percent had been threatened with death, 23 percent had witnessed sexual violence, 16 percent had been sexually violated - 12 percent multiple times.
In North Kivu, which has borne the brunt of the violence over the last year, responses to the question "who protects you" were telling. Respondents answered God (44 percent), the army (25 percent), the police (8 percent), nobody (7 percent), U.N. peacekeepers (6 percent).
About 18,000 U.N. troops are deployed in the country to help maintain security.
The report also said 85 percent of people polled believe "those responsible for the violence should be held accountable."
Echoing the views of other rights and advocacy groups, the report said government armed forces "continue to be among the worst perpetrators of daily human rights violations against the population and the source of instability."
"Civilians remain targets of the indiscriminate violence," it said, "including killing torture, displacement, abduction and epidemic levels of rape ... A state of fear prevails to this day in large swaths of" the country.
Patrick Vinck, director of the Berkeley-Tulane Initiative for Vulnerable Populations, who led the study, said "reform of the police and army are needed immediately to protect civilians. The Congolese expect that war criminals will be punished, but most remain at large."
Thanks for reading CBS NEWS.
Create your free account or log in
for more features.