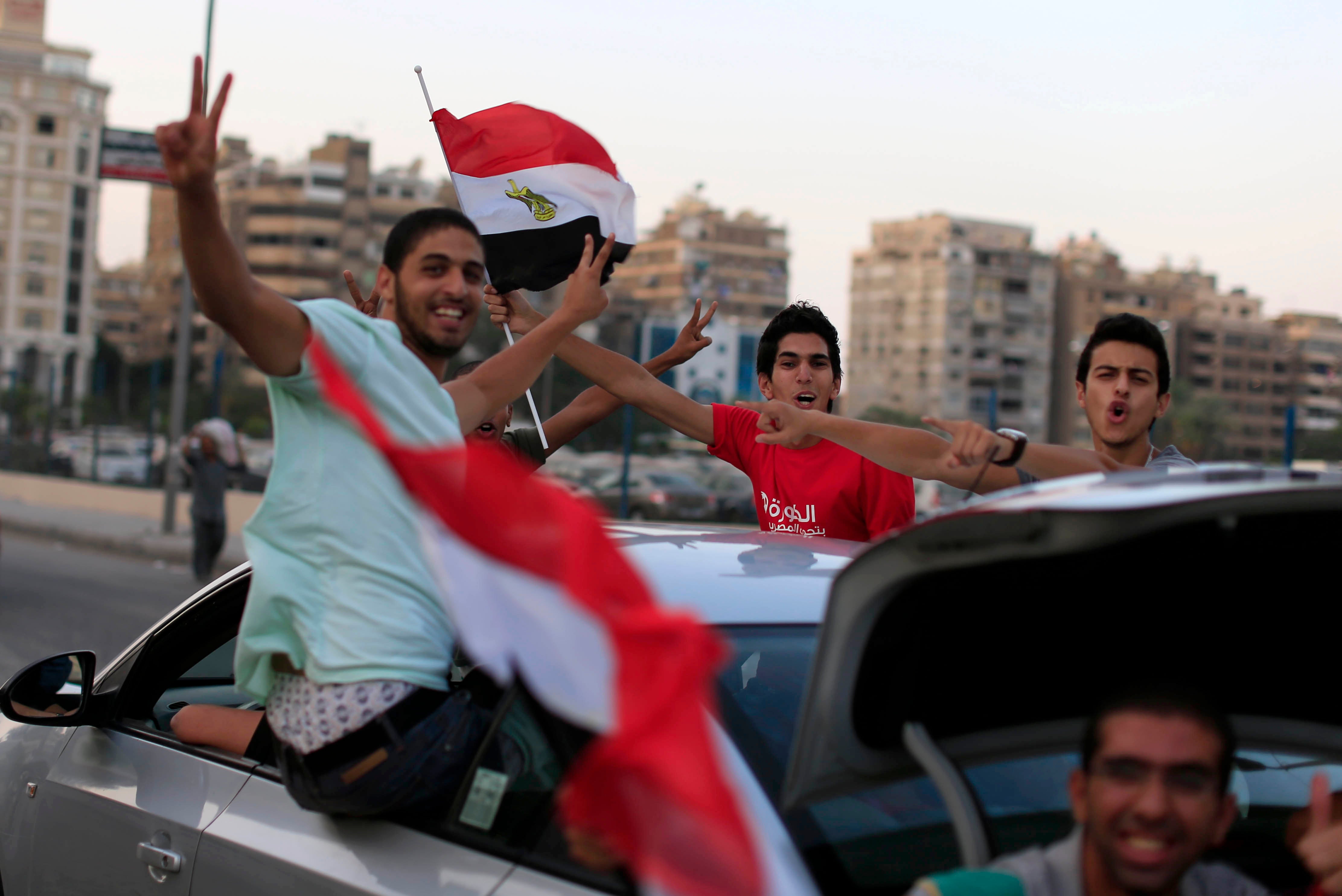 State Dept. orders diplomats to leave Egypt
WASHINGTON A U.S. official says the State Department is ordering nonessential U.S. diplomats and the families of all American Embassy personnel to leave Egypt after the Egyptian military removed Morsi and in anticipation of potential violence.
The official, speaking on condition of anonymity because the official wasn't authorized to discuss it publicly, said the State Department had placed the U.S. Embassy in Cairo on "ordered departure" status for nonemergency staff and dependents all employees. That means that those covered by the order are required to leave the country. It was not immediately clear if an evacuation operation would be mounted or if those departing would use commercial airlines or passenger ships to leave.
On Wednesday, the State Department also issued a warning to U.S. citizens to delay traveling to Egypt, and to Americans already living in that country to leave, citing the turmoil there.
"The U.S. Department of State strongly urges U.S. citizens to avoid all demonstrations in Egypt," the department said in a statement, "as even peaceful ones can quickly become violent, and a foreigner could become a target of harassment or worse. Because of the proximity of the U.S. Embassy to Tahrir Square in Cairo, the U.S. Embassy has sometimes been closed to the public on short notice due to violent protests. The Embassy will notify U.S. citizens as quickly as possible of any closing and the types of emergency consular services that will be available...U.S. citizens are urged to remain alert to local security developments and to carry identification and, if moving about alone, a cell phone or other means of communication that works in Egypt."
Meanwhile, a U.S.-based international education and training organization said Wednesday it's evacuating 18 Arabic language program students from Egypt to Morocco due to deteriorating security conditions.
Armine Poghikyan of the nonprofit American Councils for International Education in Washington, D.C., said Wednesday that participants in the Arabic Overseas Flagship Program arrived June 21 at Alexandria University for what was to be one year of studies. Officials decided the program needed to move to Moulay Ismail University in Meknes, Morocco, in the wake of political violence across Egypt, and the students will leave that country by the end of the week.
The 18 students are from Michigan State and Oklahoma universities, as well as the universities of Michigan, Texas and Maryland.
"In recent days, it had become clear that in order to guarantee the safety of our students in Egypt, it had become necessary to establish curfews and limitations on their movements," American Councils' President Dan Davidson said in a statement. "The students were essentially having to give up many of the kinds of informal language contacts and cultural exploration that overseas immersion study is designed to provide."
Egypt's military announced Wednesday that President Mohammed Morsi will be replaced with the chief justice of the Supreme Constitutional Court. Military officials also called for early presidential elections and suspended the Islamist-backed constitution. Cheers erupted among millions of protesters nationwide who were demanding the removal of Morsi. Morsi supporters shouted, "No to military rule!"
Eight other University of Michigan students remain at The American University in Cairo, though they have been ordered to stay in a dormitory, according to University of Michigan spokesman Rick Fitzgerald. For now, the plan is for them to stay, although the summer program's classes were suspended this week, he said.
"At this point, the assessment from everyone ... is they believe the best decision is to keep the students at the residence hall, where they know they're safe and away from the demonstrations," Fitzgerald said.
Thanks for reading CBS NEWS.
Create your free account or log in
for more features.