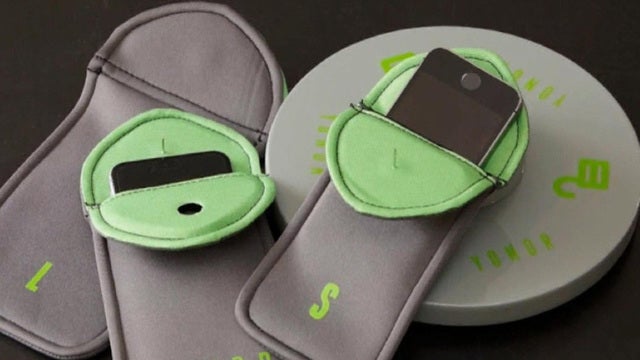 Yondr invites you to disconnect in "phone-free" zones
In their attachment to their smartphones, the students at Mercy High in Burlingame, California are typical teenagers. But when they enter Mr. Offield's English class, the phones get locked into little bags, which can't be opened until class is over.
"By separating something that's primarily for their social life, I'm hoping that it brings them more in the moment," Offield said.
Graham Dugoni is the founder of the startup company, Yondr, that makes the bags. He's attempting to break cellphone addiction and "help people engage with each other in a real way."
"What it symbolizes is a movement, and the bag is just the tool," Dugoni said.
The Yondr pouch locks much like a security tag in a clothing store. If someone needs to access their phone, they can choose to leave the phone-free zone, reports CBS News correspondent John Blackstone.
Dugoni first introduced the bags at nightclubs in tech-centric San Francisco. "Sometimes you see someone come in and their shoulders are uptight, they're clutching their phone like it's a baby," Dugoni said. "You can read it on their face - they're saying, 'don't take my phone away.'"
It's a new movement challenging the pervasive habit of viewing the world through the screen of a smartphone.
The Yondr bags are now mandatory for everyone attending a performance by comedian Dave Chappelle.
"We've had a strict 'no cellphone' rule for years. Obviously, if you look on YouTube, you'll see very few people adhere to it," Chapelle said.
Before the bags, Chappelle often found himself telling jokes to people distracted by their devices.
"It would be very hard for you to talk to anybody if he was doing this the whole time you're talking," he said, pulling a phone out of his pocket.
Dugoni hopes to see the bags used in arenas that seat as many as 20,000.
"After the first five minutes, there's twitchy hands and looking for their phones, then they seem to forget about it and slip into that natural mode of interaction. And that's kind of the golden moment," Dugoni said.
Back at Mercy High, administrator Summer Dittmer admits to having phone separation anxiety.
"I walked into a club, they asked for my phone, I said no. They said, 'you need to put your phone in here or you're not going to see anything happening in the venue.' So they gave me the thing, put my phone in, put it in my purse," Dittmer recalled. "It was almost like being separated from your own limb, but in the end, I remembered more than I typically do at a concert."
That experience prompted her to lease the bags for her school. For senior Ally Ick, locking her phone up was a mental adjustment.
"Maybe if there's something going on on social media, I could be really tempted to want to check my phone every second, but then with the Yonder pouches, it takes away that feeling and you don't have to worry about it so much," Ick said.
Junior Daniela Clinton had to bag her phone for three days on a school retreat.
"I could hear it vibrating, but I couldn't grab it and use it. I hated it so much," Clinton said. But she adjusted. "It was a break from reality. I completely forgot about everything - even school - and that was nice."
But not everyone is ready to let go of their electronic addictions. One Dave Chappelle audience member was caught red-handed.
"Just to be clear, you're no longer welcome in the venue while Dave's performing here," security told him.
"I understand why everybody uses their phones and why people are addicted to this technology. I'm not any different from them," Chappelle said. "But people actually watch the show, they're in the moment and they're vastly more fun to speak to."
Thanks for reading CBS NEWS.
Create your free account or log in
for more features.