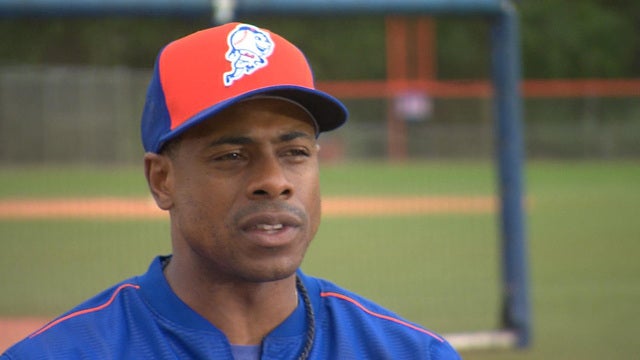 Startup strikes out hunger with per diem money
Some well-paid professionals are lending a hand to a creative new effort to fight hunger.
A charitable startup redirects so-called "per diem" allowances that some employees get to cover daily meals and expenses while on the road. Those payments can add up for professional athletes, corporate employees and actors. The effort by two young women has caught the eye of Major League baseball players, reports Dana Jacobson of CBS Sports Network.
New York Mets outfielder Curtis Granderson has played 12 years in the big leagues. He has been to all three All-Star games and two World Series, but the early days in minor league baseball were not quite as glamorous.
"I had teammates that would pack loaves of bread, peanut butter and jelly for our long bus rides because they knew they weren't going to have enough money to make it on that road trip," Granderson said.
But once he hit the bigs, "I was finishing up at the end of the week with a sizable amount of money," he said.
"I think my first year in Major League Baseball when I was getting my first per diem check and I realized, 'This is all for me?'" Granderson recalled. "It was easily in the $700 range. You know for about an eight or nine-day portion. And the next thing you know I go, 'I can't eat this much money.'"
Granderson's talking about the per diem money for travel expenses that each member of a Major League team's 25-man roster gets every day he's on the road. Right now, it's just over $100 a day. Many see it as money to burn, but Granderson saw it as money to give. "When the idea was brought in -- taking your per diem and helping out those in need to provide meals for them -- it was a no-brainer," Granderson said.
Cousins Brittany Hodak and Jennifer Barker are the women behind that idea of using per diem dollars to fight hunger. Brittany came up with the concept while looking for a place to donate her own unused per diem.
"What I did find were all these stats about food insecurity and hunger in America," Hodak said. "I was waking up thinking about it, going to sleep thinking about it. It is the closest I have ever felt in my life to being driven by some sort of higher power to do something."
Per Diems Against Poverty was born. Anyone can give to the nonprofit, but Hodak and Barker seek out donations from a few groups in particular -- like Hollywood actors and professional athletes -- knowing their per diem dollars might be less needed.
"Basically we just started cold-calling teams and letting them know what we were doing," Barker said. "It was overwhelmingly positive. Honestly, any time that we would talk to someone in communications, they would be like, 'Wow, this is really different. I've never heard of anyone doing something like this. I think I have a lot of players who would be interested."
One hundred percent of the money donated to Per Diems Against Poverty is reallocated to Feeding America, the nation's largest food bank network. One New York City food bank gets a portion of Granderson's $10,000 donation.
"I thought, what a simple yet impactful strategy. I mean, when we are dealing with 1.5 million New Yorkers who look to us, who depend on us for food and support and other services, and you think about someone contributing that amount of money, it's a big deal," said Lisa Hines-Johnson, COO of Food Bank for New York City.
"With Curtis, it was, 'Can I overnight a check? Do you have any information? Can I start telling my friends? How do I get my teammates involved?'" Hodak said.
"From his donation of $10,000 for this one season, is going to provide approximately 110,000 meals for Americans in these cities... a huge impact just from one player, so you can imagine what it would look like if you have players - all the players from his team," Barker said.
At spring training, Curtis Granderson's popularity among fans was overwhelming. But it's his generosity that may inspire that type of support for his newest teammates.
"The awesome thing is I haven't had to reach out to people. People come to me asking me about this which is great," Granderson said. "I definitely think it has the possibility of catching on in other sports, I don't know what their per diem checks are, but I do know what their salary checks are and it's very minimal work but the reward is still very huge."
Thanks for reading CBS NEWS.
Create your free account or log in
for more features.