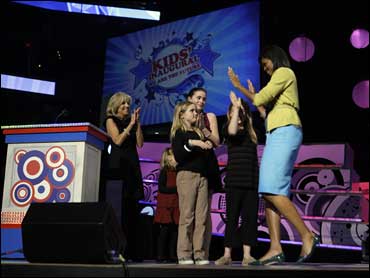 Stars Come Out At Kids' Inaugural Concert
Michelle Obama challenged the audience at a "Kids' Inaugural: We Are the Future" concert to serve their country.
She got a response from the audience at the Verizon Center on Monday night that surpassed even the appearance of teen star Miley Cyrus.
"You kids are the future of this great nation," Obama said to the crowd largely made up of military families and their charged-up children. "We need every American to serve their community, including our young people."
What can kids do? she wondered aloud: Volunteer in a homeless shelter, visit an elderly person or write letters to U.S. troops.
"For many of you, they're you're moms and dads, right?" Obama said. "Barack, Malia, Sasha and I are so grateful for the service and sacrifice all our military families make to help keep this nation safe."
Cyrus, who performed for the first time her inspirational song, "The Climb," returned the compliment to the Obamas' daughters, well-known fans of Cyrus' Disney TV alter ego, Hannah Montana.
"You girls must be awfully proud of your dad - and so am I," Cyrus said, inviting her father, Billy Ray Cyrus, to join her for a performance on stage.
"You didn't think we can give you a quiz on a day with no school? We say, `Yes, we can!" comedian George Lopez joked with the crowd that also included local families who received tickets from the Boys & Girls Club of Greater Washington.
The Jonas Brothers got Obama - wearing a sparkly blue dress and mustard-yellow cardigan - on her feet dancing, and Malia and Sasha to come up on stage to jump around like the schoolgirls that they are.
Jamie Foxx, meanwhile, led a sing-along of "America the Beautiful."
A poignant moment came when Queen Latifah invited on stage family members of the Army National Guard 261st Signal Brigade serving in Iraq. Their loved ones unexpectedly appeared on a screen via satellite.
Basketball great Shaquille O'Neal, who was raised on overseas military bases, then was beamed in from Buckley Air Force Base in Colorado.
"I am hoping that kids and families will be inspired by tonight's show to become an active part of our democracy. While we certainly live in challenging times, who better than an energized effort by kids and their families to create a better future," said Rich Ross, president of Disney Channels Worldwide, which was broadcasting the concert, which also included headliners the Jonas Brothers, Bow Wow and Corbin Bleu.
A young, aspiring singer, Elijah Lawrence, dedicated his performance of "The Star-Spangled Banner" to Michelle Obama as the concert's kickoff.
Thanks for reading CBS NEWS.
Create your free account or log in
for more features.