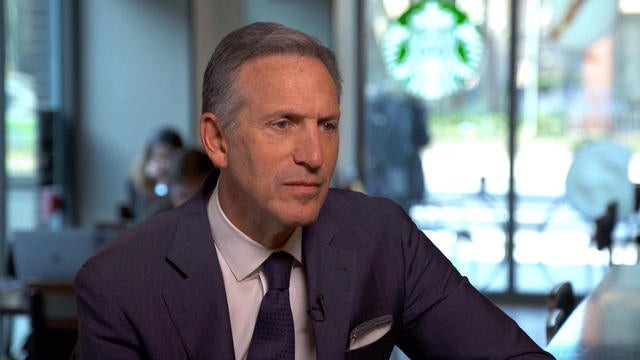 Starbucks' Howard Schultz "ashamed" after controversial arrest of 2 black men
Starbucks will be closing its stores and corporate offices on May 29 for company-wide racial bias training. The announcement comes in response to public protests and calls to boycott the coffee chain after the arrest of two black men at a Philadelphia store last week. The store manager called 911 when the men refused to leave after trying to use the store's restroom without making a purchase.
"CBS This Morning" co-host Gayle King sat down with Starbucks' executive chairman Howard Schultz to discuss how the company is handling the incident.
"I'm embarrassed, ashamed. I think what occurred was reprehensible at every single level. I think I take it very personally as everyone in our company does and we're committed to making it right. The announcement we made yesterday about closing our stores, 8,000 stores closed, to do significant training with our people is just the beginning of what we will do to transform the way we do business and educate our people on unconscious bias," Schultz said.
"It will cost millions of dollars, but I've always viewed this and things like this as not an expense, but an investment in our people and our company. And we're better than this," he said of the company's plan to close on May 29.
According to Schultz, the Philadelphia store manager who called the police has left the company. However, he said she is "interested" in sitting down with the two men who were arrested -- something Schultz sees as a "unique opportunity" for "reconciliation."
"Perhaps something good can come out of this and by that I mean, this has highlighted for us that we have more work to do as a company and I think, you know, race is a very difficult subject to discuss," he said.
The former Starbucks CEO admitted that it's possible that what unfolded in Philadelphia is not an "isolated" incident and said a complete review of their policies is in the works. Would the police have been called if the customers were white? He doesn't think so.
"There's no doubt in my mind that the reason that they (police) were called was because they were African American," he said. "That's not who Starbucks is."
According to Schultz, Starbucks has called in people including Sherrilyn Ifill from the NAACP Legal Defense Fund and Bryan Stevenson of the Equal Justice Initiative to help guide the company in its efforts to reduce unconscious bias. Starbucks CEO Kevin Johnson met with the men who were arrested to ask what the company can do for them. Schultz said that there's a possibility the two men could end up working with the company.
"What can Starbucks, given our resources, and the capabilities we have -- they have an interest in real estate -- what can we do to help advise them and support their own business endeavors," he said. "We will provide them with a foundation of learning and provide them with an opportunity to be part of our company either directly or indirectly as a result of this situation."
Thanks for reading CBS NEWS.
Create your free account or log in
for more features.