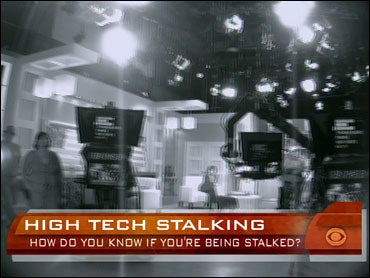 An estimated 3.4 million Americans have been subjected to stalking, defined as a course of conduct that would cause a reasonable person to feel fear. And technology has only added to the problem -- making stalking that much easier.
When former Giants defensive end Michael Strahan reportedly suspected his girlfriend Nicole Murphy, actor Eddie Murphy's ex-wife, of cheating on him, he allegedly installed a tracking device in her car on two separate occasions, reports CBS News science and technology correspondent Daniel Sieberg reports.
And those weren't the only times Strahan has been accused of using technology to monitor those around him. His ex-wife has accused him of tapping her phone and installing a secret video camera.
In the wrong hands, technology -- like video cameras and high tech computer programs -- is making it easier for people to spy on -- and stalk -- others without them ever knowing.
"I learned that there was a GPS device that was placed in my car and he placed it there," said Amy, who asked us not to use her last name. She was stalked by her ex-husband for months. "I felt completely violated. Every move I made was watched."
And even though Amy is a police officer and around similar technologies all day -- she still fell victim.
"In my personal life I didn't expect it to be used on me by a family member or by someone I thought I trusted," she said
Amy's ex-husband was convicted of two felony counts of stalking and sentenced to 15 months in jail.
Meanwhile, the fate of Michael Strahan remains up in the air.
---
Thomas Ruskin, president of CMP Group Investigations, sat down with Early Show co-anchor Harry Smith to discuss the problem and demostrate some of the devices. To see the interview, click the Play button below:



Thanks for reading CBS NEWS.
Create your free account or log in
for more features.