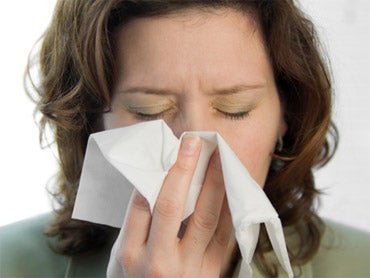 Spring Cleaning Allergens Out of Your Home
April showers may bring May flowers, but they also bring allergies, leaving an estimated 40 million Americans sneezing and wheezing all season.
So, what better time is there for the ultimate spring cleaning -- to free your home of the pollen, dust and dirt that can make spring a season of sniffles - and kick out the microscopic creatures like dust mites that make you sneeze and wheeze?
On "The Early Show Saturday Edition," home and lifestyle expert Laura Dellutri - also known as "The Healthy Housekeeper" - offered tips on how to minimize allergens in your house.
LIVING ROOM: COUCH
Problem
Allergens like dust mites, pollen, pet dander and mold land on fabrics, furniture as they circulate the air. Indoor allergens like these can trigger asthma and allergy symptoms. Open doors, windows, the clothing you wear outside and even the bottom of shoes bring the allergens into your home. Studies have shown up to 85 percent of dirt and dust comes in on the bottom of shoes. Most of us don't realize just one inch of dust averages 1000 dust mites. Dust mites feed off our dead skin cells and the fecal matter (pellets) is covered in a protein that triggers allergy symptoms. Dust mites thrive off of warmth, moisture and humidity breeding more mites.
Healthy Housekeeper's Tips
For better indoor air change your filters every season and more if you have serious allergy sufferers in your home use allergen reduction filters in your HVAC they contain allergens better than your typical fiberglass filter.
For window air conditioners, use a 3M Filtrete Air Conditioner Filter; you can filter the air and take out the harmful allergenic particles you want to avoid. Electro-statically charged Filtrete fibers work like magnets to attract small airborne particles such as dust, pollen, mold and pet dander. These filters clean the air you breathe 50 times better than an ordinary foam room A/C filter. So don't just cool the air in your room, filter it! Simply cut to fit.
Allergens on soft surfaces like drapes, sofa pillows and carpets can be sprayed weekly with Febreze allergen reducer to help reduce airborne allergens by up to 75 percent.
Eliminates
Dust mites and other airborne allergens.
Products
3M Filtrete Ultimate Allergen Reducer $20
Febreze Allergen Reducer Spray $5
BEDROOM: BED / DRESSER / CEILING FAN / CARPET
Problem
On average, 2 million dust mites control your bed and thrive on your warm body every night!
Healthy Housekeeper's Tips
Start by cleaning your bedroom from top to bottom. There is a system to dusting: High Dust-Mid Dust-Low Dust. Start high, on the ceiling fan, wall vents, drapes etc., then mid dust dressers, bedding, and vacuum or sweep and mop the floor last.
Shut out the dust mites' all night buffet with pillow and mattress encasements. They are easy to place on the bedding to stop dust mites from breeding in your bed and pillows. Use duct tape to keep the microscopic allergens from sneaking in through the zipper.
Dust vertical surfaces regularly with a duster that traps and locks dust, chicken feather only blow the dust around.
Kep humidity levels below 50 percent - dust mites like it higher.
Eliminates
Dust mites and other allergens.
Products
Pro Ceiling Fan Duster w/ pole $29
Aller-Ease Bedding Encasement(s) $4
Swiffer Duster $ 5
Sunbeam Humidity Monitor $3
KITCHEN: FLOORS
Problem
Allergen's are lurking in your kitchen many of them on your floor!
Healthy Housekeeper's Tip
Most children and pets spend a lot of time playing on your kitchen floors. The kitchen floor can be one of the most bacteria infected places in the home. Food droppings, spills, pets and kids make it even dirtier. Pet paws can be full of allergens from being outside. Children pick up all kinds of microorganisms on the bottom of their shoes. It's best to sanitize your floors weekly to help stop the spread of germs and remove all the allergens from the floors surface. Use a steam vacuum to do the job and keep the pet dander to a minimum by keeping your pets hair short and by using an allergen shampoo.
Eliminates
Dust mites, dust particles, mold spores, pet dander, ragweed, pollen and other germs and bacteria.
Product
Haan Duo Steam/Vacuum $149
Thanks for reading CBS NEWS.
Create your free account or log in
for more features.