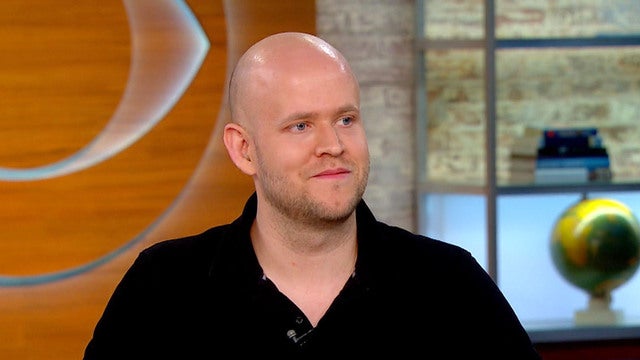 Listen up! Spotify adding video content
For the first time since their launch seven years ago, Spotify is adding video content.
CEO Daniel Ek said they're hoping the streaming service will play a larger role in the lives of its customers beyond music.
"We kind of looked at the biggest moments where people were listening to music, and what we found is that when asking users why they weren't using Spotify in those moments, they were saying that they were doing more than just listening to music," Ek said Thursday on "CBS This Morning."
The music streaming service is expanding further into the world of entertainment. Spotify will have its own original video content and also feature content from different media partners.
CNET senior editor Bridget Carey said companies like Spotify are getting into video in order to grow.
"You want a place that has everything. I think consumers are looking for something that's not confusing to use and is simple, has the music and maybe you'll be lazy and just keep watching video on their app instead of going to another apps."
Competing apps could come, in part, from Apple. The tech giant is expected to launch its own subscription streaming service next month.
"All these apps now are trying to be your everything; they want to keep you on all day long," Carey said.
One feature unique to Spotify will be the ability to listen to music tailored to your activities and lifestyle.
"We're really thinking about this and thinking about the largest moments in people's lives, and we're thinking about how we can soundtrack more of those moments," Ek said.
According to Carey, Spotify will offer different songs depending on the time of day and will know your musical preferences. It will also create unique playlists as you work out.
"When you're running its able to use the phones accelerometer to know your cadence and your steps and have songs that match the beat to how you're running."
But all of that growth is not without consequences. Ek said the company is profitable, but it reported a $180 million loss last year.
"What a lot of people forget is again, the way we look at this world is that this is a space where we're talking about billions of consumers in the next five years that will listen to music. So what we're doing is we're investing in that growth," he said. "We took Spotify to 35 new markets last year, and that's a huge investment in local offices, sales force, local people who can help with content and so on. So it's really the investment phase for us still."
Thanks for reading CBS NEWS.
Create your free account or log in
for more features.