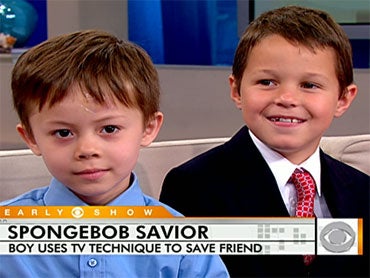 "SpongeBob" Helps Boy Save Friend From Drowning
An 8-year-old New Jersey boy saved his 5-year-old neighbor from drowning last weekend with a technique he says he learned from the Nickelodeon cartoon "SpongeBob SquarePants."
Andrew Gentile was struggling in a manmade lake in Washington Township. He'd been playing in a shallow area, but wandered into deeper water. His mother, Shirley, tried to help, but she panicked herself when she lost her footing in the six-foot deep water.
That's when Reese Ronceray remembered the strokes from a scene in the episode "SpongeGaurd on Duty," and came to the rescue. He told "Early Show" co-anchor Maggie Rodriguez he ran and jumped into the water.
Reese said he grabbed Andrew around the shoulders and started paddling.
"I started swimming to shore, but before I grabbed him we just plopped and (went) under the water."
Rodriguez said, "That must have been scary."
Reese replied, "Very."
He said, "I just kept (moving my arms) up all the way to the surface."
Rodriguez asked, "You were just using one arm and holding him with the other?"
Reese added, "And two legs."
Rodriguez asked Andrew, "What do you say to your friend for saving your life?"
Reese told his friend, "Thank you."
Andrew responded, "You're welcome."
Reese added, "His mom was like, 'Thank you. Thank you. Thank you. Thank you. Thank you. Thank you.'"
Reese's mom, Anne, said she's "so proud" of her son.
"I'm amazed that he even jumped into the water," she said. "He's only had some lessons for a couple of years. I didn't think he could life-save. I saw Andrew having some problems and the next thing I knew, I saw Reese in the water."
Anne continued, "I was like, 'Oh, man, I'll have to jump in myself. But Reese came back up and had Andrew in the crook of his arm and swam right to shore."
Nickelodeon is proud, too:
David Bittler, spokesman for Nickelodeon, released in a statement, "We are so happy to hear that Andrew is OK, and we're proud that 'SpongeBob' could inspire a great kid like Reese to be a hero."
Rodriguez remarked, "A lot of people aren't sure about letting people watch cartoons, but they obviously have some redeeming value."
"Early Show" contributor child and adolescent psychologist Dr. Jennifer Hartstein said, "Cartoons absolutely do (have benefits). And Reese is surely to be commended for staying calm under pressure. He really kept a cool head, use he what he saw on television and made it happen. But I think we can't forget how important it is to watch these shows with our kids, to really make sure they understand what it is they're watching. And that's really the trick I think at the end of the day is to make sure that everybody's on the same page with what it is they're watching and understand it so that they can put these great opportunities in to play and really help their friends out, which is a wonderful ending to a potentially tragic story."
Thanks for reading CBS NEWS.
Create your free account or log in
for more features.