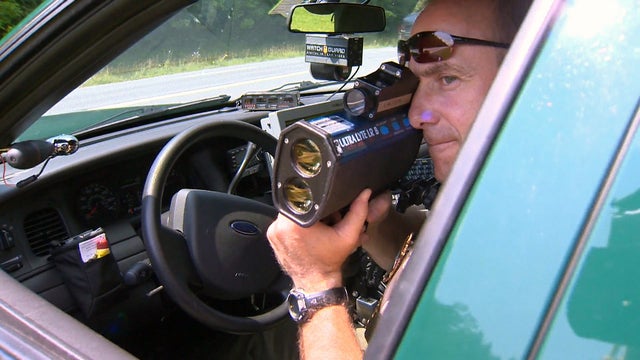 New laws aim to put brakes on nation's speed traps
One of the nation's most notorious speed trap towns is on lawmakers' radar, reports CBS News correspondent Kris Van Cleave.
Small towns often use money from speeding tickets to help pay their bills, and the AAA believes some of those citations are a form of policing for profit. Federal legislation has been proposed to stop towns from profiting from speed traps, but it faces fierce opposition from municipalities.
One 2-mile stretch of Interstate 295 in Hopewell, Virginia, is dubbed "The Million-Dollar Mile."
For years, Hopewell has used the sliver of highway that runs not through, but along the town's border, as its personal cash register - ringing up over $1 million a year by writing more than 1,000 tickets per month.
Last year, Hopewell collected $1.8 million from tickets. The AAA said it's one of the worst speed traps in the nation, despite the fact that traffic experts say there no safety concerns along that stretch of I-295.
AAA Mid-Atlantic spokesman John Townsend said the majority of any town's budget should not come from speed trap fines.
"We see communities across the country, attempting to balance their city budget or local budget. That is not only wrong-headed, it's mean spirited and unfair," he said.
In Stringtown, Oklahoma, population 400, 76 percent of the town's 2013 budget came from traffic tickets. A state investigation found excessive speed trapping, and the police department was disbanded last year.
Waldo, Florida, is just two square miles, and Highway 301 runs right through the village, but the highway speed limit changed six times, enabling police to write thousands of tickets a year. The AAA put up a billboard warning drivers.
"It was right out of something that you saw in the 1950s, or something in 'Smokey and the Bandit.' This was law enforcement gone amok to take advantage of motorists, especially to take advantage of tourists passing through their area," Townsend said.
The speed traps prompted seven states, including Florida and Oklahoma, to impose limits on the percentage of revenue a municipality can keep from traffic citations. Missouri and Virginia added laws this year.
Virginia State Senator Bill Carrico, a retired state trooper, sponsored a state budget amendment that took effect in July because of complaints about Hopewell's speed enforcement. It caps the revenue for Virginia towns like Hopewell at 30 percent.
"They can't exceed a certain amount of money regardless of how much they are out there on the highway," Carrico said.
In Hopewell, the mayor, sheriff and town manager all declined CBS News requests for interviews, but Assistant City Manager Charles Dane gave more insight into their law.
"We ticket at more than 10 mph over the speed limit. If you think that's unreasonable, you should probably watch your speed when they come through," Dane said.
He said they didn't change the law because it was illegal.
"They wanted a portion of the proceeds. That's all it was," Dane said.
The Commonwealth of Virginia will put the money from Hopewell's speed trap cap into a state literary fund. The AAA hopes that this year, that law will put the brakes on Hopewell's Million-Dollar Mile.
Thanks for reading CBS NEWS.
Create your free account or log in
for more features.