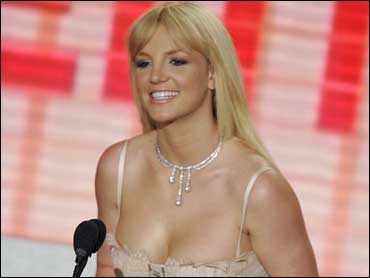 Spears Can't Escape The Heat
With the closure of her largest fan Web site, rumors of frustration at her record label and unflattering photos published in the New York Post, Britney Spears is being forced to take notice.
"That is probably a wake-up call for Britney," US Weekly contributing editor Katrina Szish told The Early Show co-anchor Hannah Storm. "Her fans are so loyal. No matter what she does, they seem to love her and forgive her. But the fact that this huge Web site has said we are not approving and will discontinue this Web site should make her realize there's a problem."
The Post reported that Spears recorded sub-par tracks and her label, Jive Records is fed up with her. But according to Szish, Jive said it stands behind Spears. The unflattering pictures made Spears look bloated and aged. Szish said in an industry in which every photo counts, those pictures did a lot of damage.
"We had reports that she was in a spa prior to New Year's or checked in response to those bloated photographs. But it looks like she's doing anything to get her positive image back," Szish said.

---

Photos: Britney Spears

---

But there has been some good news for Spears: the custody agreement she reached with ex-husband Kevin Federline works in her favor. Szish said that for the month of January, Federline will be able to visit their sons Sean Preston, 1, and Jayden James, 4 months, three times a week for four hours at a time. He will only be able to spend time with the children at Spears' house, Szish said.

In a recent message on her Web site, Britney Spears addresses her future, her new album and the closing of one of her biggest fan sites.

The pop star, who has taken heat lately for her late-night escapades, said in the message: "The media has criticized my every move and printed a skewed perception of who I really am as a human being. Behind every decision I have made in my public life there always seems to be an apparent contradiction. I have come to terms with that which is why I usually don't pay much attention to it."

Spears went on to call the last few years "very enlightening" and discussed her new album, which is in the works.

"Now that I've had the time to be 'me,' I've been able to sit down and think about where I want to go with myself as an entertainer with absolutely no strings attached. I am now more mature and feel like I am finally 'free,' I've been working so hard on this new album and I can't wait for you all to hear it and to go on tour again! I would like to exclusively tell you that I am working hard to release the new album sometime later this year, but the date is of course not certain yet," she wrote.

Spears says she is planning a comeback that is "bigger and better than ever" and plans on reaching out to her fans even more.

"I noticed today that one of my biggest fansites is shutting down soon and I want you all to know that I do understand all the reasons that went behind making that decision, and I am sad to see it closing," she wrote. "If I were you I'd be unhappy too if I had to read what I've been reading every day. But trust me, I get it. I know I've been far from perfect and the media has had a lot of fun exaggerating my every move, but I want you all to know that I love my fans so much, and I appreciate everything you have done for me, so Thank you, Thank you, Thank you!"

The message comes on the heels of a USA Today story, where her manager Larry Rudolph said she is calling the recent spate of bad media coverage her "rocky moment." She has been criticized not only for exposing herself while in the company of Paris Hilton, but also for staying out late without her sons, 1-year-old Sean Preston and 3-month-old Jayden James.

"Britney knows exactly what she needs to do," he told the paper. Spears' bad behavior following her November announcement that she would divorce her husband of two years prompted the closure of one of the largest Spears fan sites, Worldofbritney.com.

"I've not been happy with the way she's portraying herself," site founder Ruben Garay told the paper.

Last month, Garay posted an official announcement on the site: "As Britney keeps losing her identity and credibility within fans and industry people, so is WoB. We're moving on to greater, bigger things. I would therefore like to announce the permanent shut down of World of Britney.com beginning January 31st, 2007."

Rudolph said that Spears may not be behaving perfectly, but many of the reports are either fabricated or exaggerated, especially the New Year's Eve report of a collapse.

"We were sitting there drinking orange juice," he said. "She got tired in a club, and we took her back to her room. Suddenly, I'm hearing words like 'collapsed' and 'passed out.' "

Rudolph said that Spear's album is half-finished, and she sees this as her moment to win dispirited fans back.

"Britney is increasingly motivated to get out there," he said. "She sees this as a challenge, that some fans may be questioning her. She is respectful. She sees this as her challenge to win them back."
Thanks for reading CBS NEWS.
Create your free account or log in
for more features.