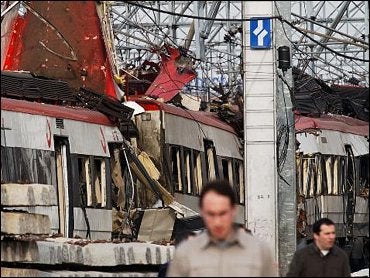 Spain Reels From Deadly Bombings
Ten terrorist bombs tore through trains and stations along a commuter line at the height of Madrid's morning rush hour Thursday, killing more than 190 people and wounding 1,200 others before this weekend's general elections. Officials blamed Basque separatists for the worst terrorist attack in Spanish history.
"This is mass murder," said a somber Prime Minister Jose Maria Aznar following an emergency cabinet meeting, vowing to hunt down the attackers and ruling out negotiations with the ETA separatist group.
The bombers used titadine, a kind of compressed dynamite also found in a bomb-laden van intercepted last month as it headed for Madrid, a source at Aznar's office said, speaking on condition of anonymity. Officials blamed ETA then, too.
But a U.S. intelligence official, speaking on condition of anonymity, said, "It's too early to tell. We're not ruling anything out."
The bombs started exploding around 7:30 a.m. (1:30 a.m. ET) in a commuter train arriving at Atocha station, a bustling hub for subway, commuter and long-distance trains in Spain's capital. Blasts also rocked trains and platforms at two stations on a commuter line leading to Atocha.
Worst hit was a double-decker train at the El Pozo station, where two bombs killed 70 people, fire department inspector Juan Redondo said.
"It looked like a platform of death," he said, adding that one body had to be picked off the train station's roof. "I've never seen anything like it before. The recovery of the bodies was very difficult. We didn't know what to pick up."
The bodies of the dead, some with their cellphones ringing unanswered as frantic relatives tried to contact them, were carried away by rescue workers.
People in tears streamed away from Atocha station. Some with bloodied faces sat on curbs, using cellphones to tell loved ones they were alive. Hospitals appealed for blood donations. Buses were pressed into service as ambulances.
It was the deadliest terrorist attack in Europe for decades, reports CBS News Chief European Correspondent Tom Fenton, and, if it does turn out to be ETA's work, a reminder that Islamic fundamentalism is not the only public threat to safety.
The blasts killed at least 173 people and injured more than 600, Interior Minister Angel Acebes said. Police staged three other controlled blasts of bombs or suspicious objects.
"No negotiation is possible or desirable with these assassins who so many times have sown death all around Spain," Aznar said, reading from a statement.
"Only with firmness can we end the attacks," said Aznar, who in 1995 survived an ETA car bombing when he was opposition leader.
Washington pledged solidarity.
"The United States stands resolutely with Spain in the fight against terrorism in all its forms and against the particular threat that Spain faces from the evil of ETA terrorism," said a statement by Secretary of State Colin Powell. "No political pretext can justify this premeditated murder of the innocent."
Rescue workers were overwhelmed, said Enrique Sanchez, an ambulance driver who went to Santa Eugenia station, about 6 miles southeast of Atocha.
"There was one carriage totally blown apart. People were scattered all over the platforms. I saw legs and arms. I won't forget this ever. I've seen horror."
Anibal Altamirano, a 26-year-old survivor who was about to board a train at Atocha, said that people were stunned after the first blast.
"After a second explosion, people dropped everything, bags and shoes and ran, many trampling on others," he continued. "People didn't know which way to go. Some even went into the train tunnels without thinking other trains could be coming."
Acebes said security services blamed ETA, which has been fighting for an independent Basque homeland in northern Spain, because the group attempted a similar attack on Christmas Eve, placing bombs on two trains bound for a Madrid station that was not hit on Thursday.
Acebes also noted that on Feb. 29, police intercepted a Madrid-bound van packed with more than 1,100 pounds of explosives and blamed ETA.
"Therefore, it is absolutely clear and evident that the terrorist organization ETA was looking to commit a major attack," Acebes said. "The only thing that varies is the train station that was targeted."
Arnold Otegi, leader of Batasuna, an outlawed Basque party linked to the armed separatist group, denied it was behind the blasts and suggested "Arab resistance" elements were responsible.
Acebes dismissed this as an "intolerable" attempt to shift blame.
The attack horrified Spain on the eve of Sunday's general election. Campaigning was called off and three days of mourning were declared. Newspapers ran special editions.
The campaign was largely dominated by separatist tensions in regions like the Basque country, with both the ruling conservative Popular Party and the opposition Socialists ruling out talks with ETA.
But the Socialists came in for withering criticism because a politician linked to the Socialist-run government in the Catalonia region, which also has separatist sentiment, admitted meeting with ETA members in France in January. The Socialists were lambasted as allegedly undermining Spain's fight against ETA.
The deadliest attack blamed on ETA so far came in a Barcelona supermarket explosion in 1987. It killed 21 people.
Spanish officials had said ETA was against the ropes following the arrest last year of more than 150 members or collaborators in Spain and France, including the leaders of ETA's commando network. Last year ETA killed three people, compared to 23 in 2000 and 15 in 2001.
No arrests were reported Thursday. France, long a haven for ETA members and key in helping Spain fight the group, said it tightened border checks, stopping people on foot and search cars.
The government convened anti-ETA rallies nationwide for Friday evening.
"What a horror," said the Basque regional president, Juan Jose Ibarretxe, who insisted ETA does not represent the Basque people. "When ETA attacks, the Basque heart breaks into a thousand pieces," he said in the Basque capital Vitoria.
Thanks for reading CBS NEWS.
Create your free account or log in
for more features.