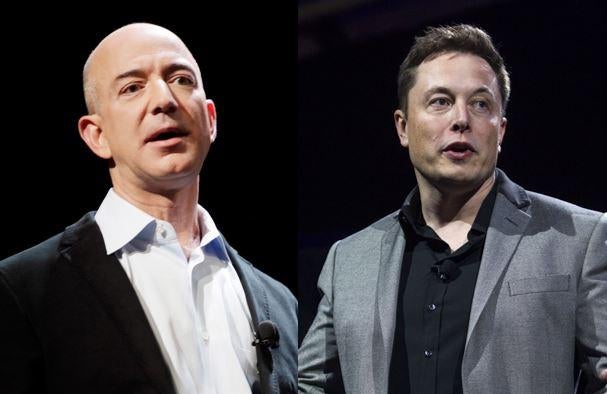 Competition for space innovation heats up between Jeff Bezos and Elon Musk
Amazon CEO Jeff Bezos is expected to unveil plans today for the future of his space company, Blue Origin. Designed to take tourists into space and the moon, Bezos tweeted the first photos of the main engine of his company's future rocket on Monday.
More than 14,000 aerospace engineers and entrepreneurs are gathering at the Washington, D.C., convention center to talk about our future in space. Those in the industry are watching a heated competition – not between two countries, but between two billionaires.
In less than a year, Blue Origin has successfully launched and landed its rocket, The New Shepard, five times.
But now the company appears to be shifting its focus to a familiar target: the moon. Blue Origin is reportedly circulating a seven-page white paper to NASA and the Trump administration outlining its plan to develop a new spacecraft to help it establish human settlements on the moon.
"What it really wants to do is to land this lunar module to be able to bring this cargo, supplies, equipment, science experiments," the Washington Post's Christian Davenport said.
Bezos' target isn't just earth's nearest neighbor. He's also aiming at Elon Musk and rival company SpaceX. To make its shipments, Blue Origin could use its largest rocket, The New Glenn, named after John Glenn, the first astronaut to orbit the earth. It will be ready to fly by the end of the decade, capable of directly competing with SpaceX's Falcon rockets.
SpaceX has already successfully launched 29 Falcon 9 rockets and also has its eyes on the moon. On a conference call last week, Musk announced plans for two private citizens to ride in a lunar capsule as early as next year.
"It would skim the surface of the moon, go quite a bit further out into deep space and then loop back to Earth," Musk had described.
Bezos said he wants to do that – and more.
"Our vision is millions of people living and working in space," Bezos said.
The two have enjoyed a friendly rivalry for years. But now those who follow their careers closely say their high-stakes competition could lead to high-tech innovation.
"What these companies want to do is help create a self-sustaining economy in space," Davenport said. "And that's what's fueling all of this."
During the Obama years, much of the space industry was focused on getting to Mars. But now under President Trump, many are seeing efforts being re-focused on the moon, getting there, and staying there for extended missions. Bezos and Musk see moon missions as an out-of-this-world business opportunity.
Thanks for reading CBS NEWS.
Create your free account or log in
for more features.