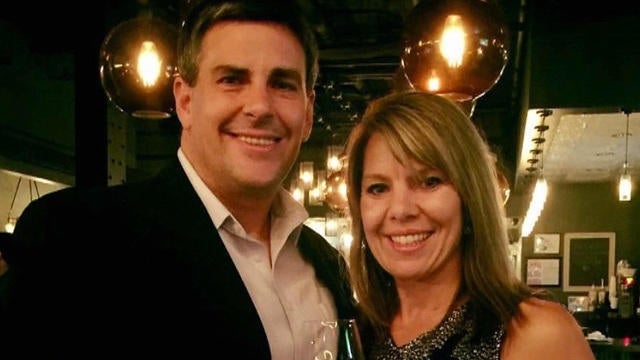 Husband of Southwest Airlines victim: "I have no idea how I can do this without her"
ALBUQUERQUE, New Mexico -- Family and friends gathered Sunday to mourn an Albuquerque bank executive who died after the Southwest Airlines plane she was on blew an engine in midair. Nearly a thousand people attended the evening service for Jennifer Riordan -- a beloved member of the community, a wife and mother of two.
Now for the first time, Jennifer's husband Michael is speaking out publicly. Here's a transcript of his conversation with CBS News' transportation correspondent Kris Van Cleave.
---
MICHAEL RIORDAN: One of the most comforting things through all this is she called me that morning. She just called to check in on the day, how, what we were going to do that night when she got home and we ended with "I love you, safe travels."
KRIS VAN CLEAVE: How did you find out about what had happened?
MR: There was a chaplain from a hospital that called and he said, "well I'm from Philadelphia." I forgot the name of the hospital and I said, "well, my wife was flying to Chicago today so you must be looking for somebody else." He said, "No, there was a plane that was diverted here. I'm going to have to have a doctor give you a call." Then the doctor called and said, "I'm sorry, Michael, but we've done everything we can but we couldn't save her," and I just dropped the phone.
MR: I immediately switched to the second and third phone calls that I had to make -- the worst ones of my life -- to her father and her mother -- and then trying to figure out how to tell the kids that their mom wasn't coming home.
KVC: What do you want your kids to hold onto when they think about their mother?
MR: Kind, loving, caring and sharing -- 100 percent -- and that's every decision we make is going to be based on that. When I have those four little eyes look at me thinking how we're going to get through, that's going to make me a better dad and a better husband and a better person.
KVC: Do you see her as your guardian angel now?
MR: Absolutely! She was before. He's been that day since we met when we were teenagers and I just didn't know it and now I do.
KVC: If you could talk to her today what would you tell her?
MR: I love you. I have no idea how I can do this without her but because of her I know I can. It's the love affair that will never end and it won't. No one can take her from my heart and no one can take her from our family.
Riordan said he knows there will be some dark days ahead as he and his two children -- Averie, 12, and Josh, 10 -- really begin to grieve. They are carrying guardian angel coins handed out at the memorial service last weekend -- a reminder that Jennifer is still looking out for them.
Thanks for reading CBS NEWS.
Create your free account or log in
for more features.