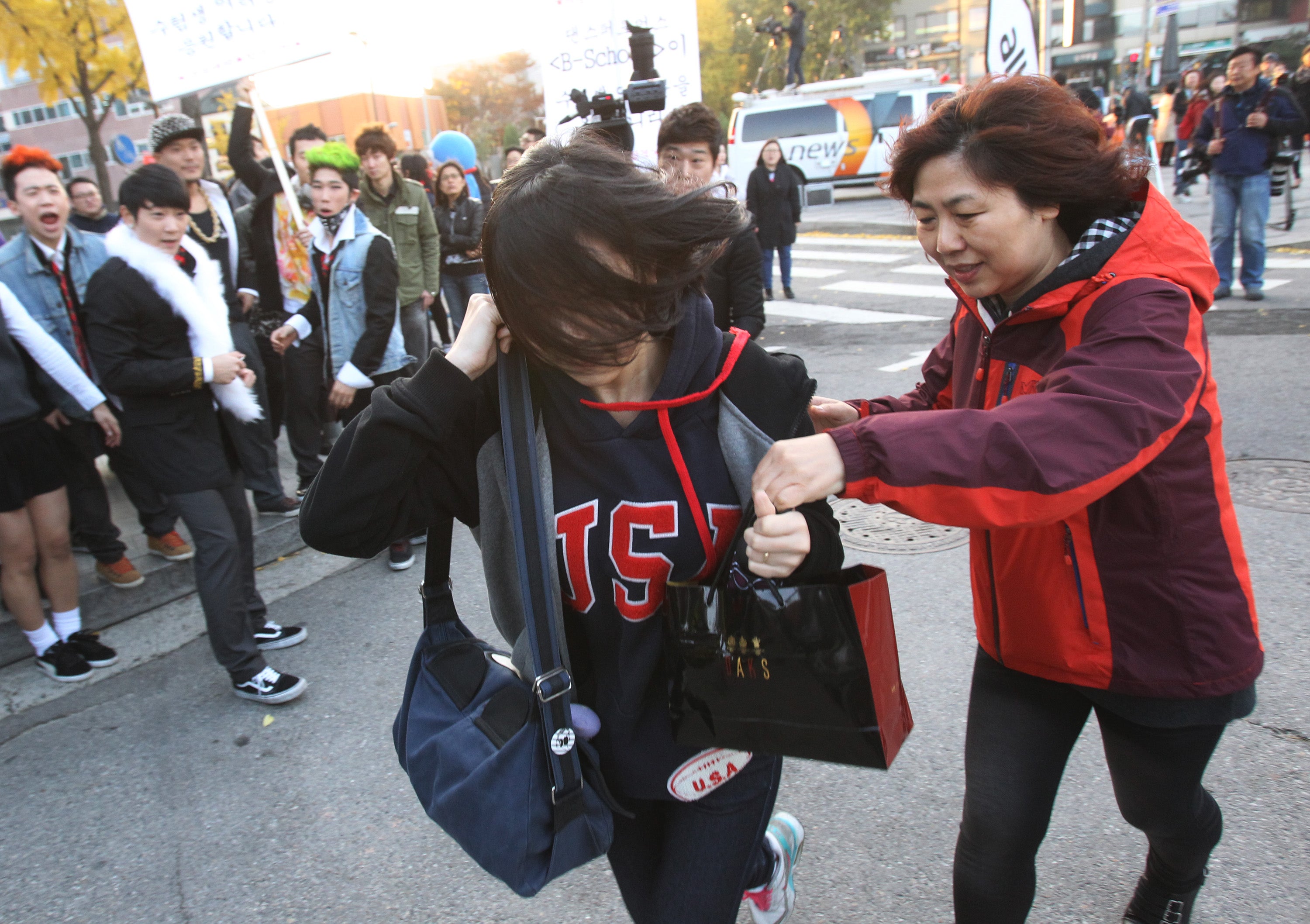 South Korea's dreaded college entrance exam is the stuff of high school nightmares, but is it producing "robots"?
SEOUL

"I spent 19 years preparing for this exam," a high school senior said as he walked past a crowd of cheering onlookers. "I feel very nervous."

More than 650,000 South Korean high school seniors took the nation's notorious college entrance exam Thursday; the Scholastic Aptitude Test, popularly known to South Koreans as the "suneung." The eight-hour exam tests pupils on subjects including college-level math, history, science, Korean language, and English.

This year's exam was created by a 490-member panel of professors and high school teachers from across the nation. The panel sequestered itself in a secret location in the sparsely populated, mountainous region of Gangwon Province for 34 days, starting on Oct. 5.

Panel members must surrender cell phones and are effectively cut-off from the outside world -- they cannot go out, send emails, make phone calls, or contact their families.

They are forbidden from telling anyone, including their spouses, that they have even been selected to help author one of the world's most difficult college entrance exams. Instead they come up with excuses -- a business trip or an academic conference -- to explain their mysterious absence.

Panel members reportedly bring with them thousands of test-prep books, which are readily available in bookstores. They don't bring them for ideas, but to make sure the test questions they come up with don't match any of the thousands of mock questions produced by an army of suneung-specific publishing houses.

Administered just once every year, the exam is the primary factor to determine which college young South Koreans are able to start studying at in the spring. In the run-up to the exam, seniors typically spend more than 10 hours each day studying. When school ends in the afternoon, students stay holed up in after-school private cram sessions known as "hagwon" well into the evening, sometimes until midnight.
A 2011 survey by the Korea Centers for Disease Control and Prevention found that an average South Korean high school senior slept just 5.5 hours a night.
The excessive studying prompted South Korea's Ministry of Education to push for legislation prohibiting hagwons from operating past 10 p.m., which provoked a fierce backlash from the multi-million dollar private education industry -- and from worried parents.
Although South Korea's education system has earned recognition abroad -- in the 2009 PISA assessments, a triennial survey that evaluates the educational achievements of 15-year-olds in OECD member countries, South Korea ranked second in reading, fourth in mathematics, and sixth in science -- its heavy emphasis on memorization and learning by rote has led to a growing disillusionment.
"No discussion or debate takes place in a South Korean high school classroom," said Lee Yun-ho, a professor in social studies at Sunchon National University. "It's all about memorization. Students mostly spend their time memorizing an exorbitant amount of material in order to do well on suneung, which will mainly decide how high-ranking a college they can get into."
Once students get through the entrance exam and make it into college, Lee said, they are ill-equipped for the kind of original research and genuine intellectual curiosity that university-level education requires.
"In South Korea, the teacher speaks and the students just sit still, listen, and memorize. So when they come to college, they are unable to take on independent research projects or engage in creative thinking," he argued.
South Korea's education system, he said, "produces robots."
Filed by CBS News' Samuel Songhoon Lee
Thanks for reading CBS NEWS.
Create your free account or log in
for more features.