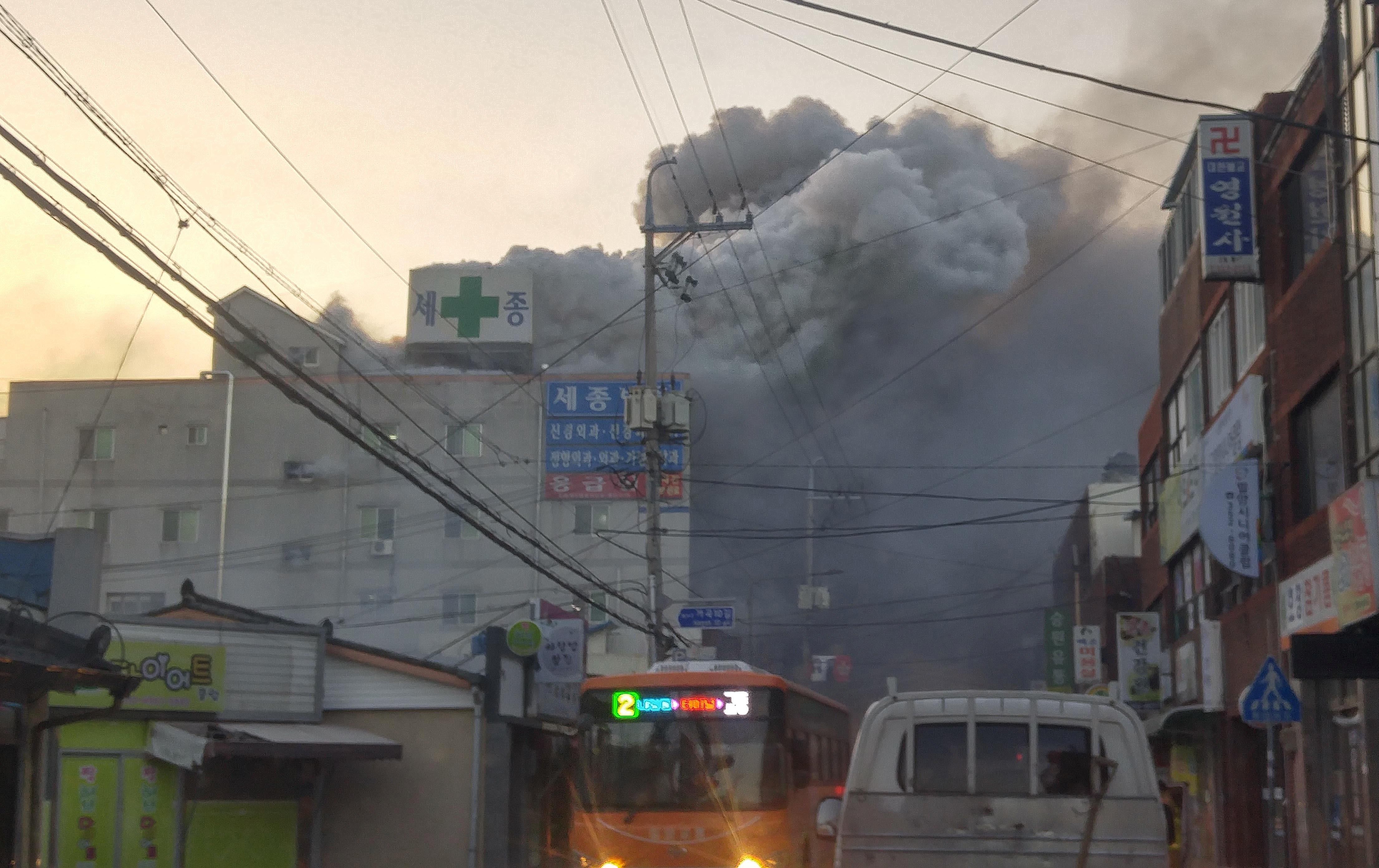 Hospital fire breaks out in South Korea, kills more than 30
SEOUL, South Korea -- A fire swept through a hospital in southeastern South Korea on Friday, killing more than 30 people and injuring dozens in one of the country's most deadly fires in recent years. The fire at Sejong Hospital in the city of Miryang killed 31 people and injured 81, 14 of them in critical condition, the state-run National Fire Agency said. Agency officials said the death toll could increase.
Details of the fire including its cause were unknown. But local Miryang fire officials said they put out the blaze at 10:26 a.m., nearly three hours after it started at the first-floor emergency room of the hospital.
A National Fire Agency official said many of the deaths were confirmed after the victims were taken to nearby hospitals while being put on artificial ventilators. But he said he has no further details including the identification of the dead. The official spoke on condition of anonymity saying he wasn't authorized to speak to media.
A total of 194 people had been hospitalized in two buildings of Sejong Hospital, including 94 elderly people who were hospitalized in the nursing hospital, before the fire broke out, Miryang fire official Choi Choi Man-wu said in an earlier televised briefing.
The victims came both from the hospital and the nursing home. Some died on their way to another hospital, BBC News reports.
Sejong Hospital offers regular medical services and has 193 beds including 98 beds for the elderly who needs nursing care with 35 medical staff, according to Yonhap news agency.
South Korea is one of the fastest-aging countries in the world and has many nursing hospitals, which are preferred for elderly people who long-term doctors' care.
BBC News writes that South Korean President Moon Jae-in held an emergency meeting to discuss ways of dealing with the fire, said spokesman Cheong Wa Dae.
He ordered officials to provide necessary medical supports to those rescued, find the exact cause of the fire and work out measures to prevent future fires, according to his spokesman Park Su-hyun.
Miryang is about 168 miles (270 km) from the capital, Seoul.
Several recent fires in South Korea have been deadly.
In late December, 29 people were killed in a building fire in central Seoul, which was the country's deadliest blaze over the past decade before the hospital fire. Last weekend, a fire at a Seoul motel killed six people, and police arrested a man who allegedly set it ablaze in anger because he had been denied a room for being heavily drunk.
In 2014, a fire set by an 81-year-old dementia patient killed 21 at another hospital for the elderly.
Thanks for reading CBS NEWS.
Create your free account or log in
for more features.