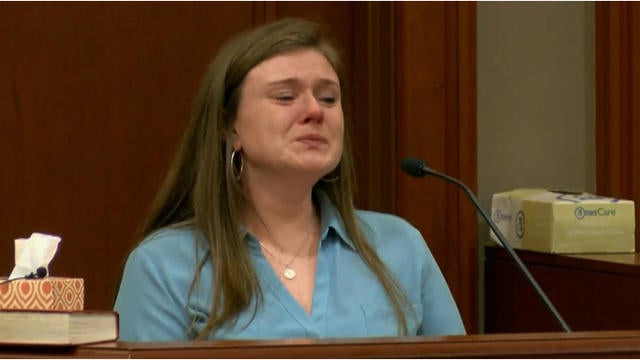 South Carolina woman convicted of leaving baby in trash bin
CONWAY, S.C. — A South Carolina woman has been convicted of dumping her newborn daughter in an apartment trash bin.
Local media report that an Horry County jury in Conway on Thursday convicted Shelby Taylor of Myrtle Beach of attempted murder. Taylor will be sentenced next week.
Taylor and her attorneys did not deny the basic facts of the case. She gave birth at home in 2015 while her husband and 16-month-old daughter were asleep. She put the girl in a trash bag and placed her in a trash bin at the apartment complex.
The girl was found by two brothers and survived.
Defense attorneys argued Taylor suffered from a severe form of postpartum depression. According to CBS affiliate WBTW, Taylor was afraid of her husband, leading her to hide her pregnancy from her family.
Prosecutor Scott Hixon said Taylor intentionally deceived everyone in her life and intended to kill her baby.
On the second day of the attempted murder trial, Taylor took the stand in her own defense.
According to WBTW, the jury heard a 30-minute recording of Taylor talking to police in 2015, just hours after the infant was found in the trash. Taylor's story then was reportedly very different from the one she told on the stand.
In the 2015 recording, former Horry County Police Detective Jeff Cauble asked Taylor several times whether she was pregnant or had recently given birth. Taylor denied being pregnant or a recent delivery several times.
"I wouldn't do this," Taylor says in the recording. "I'm not that type of person. I wouldn't do this. I'm a good person."
WBTW reports that the detective told Taylor that police had spoken with her neighbors who described Taylor as "very pregnant," but Taylor continued to deny the allegation.
When she took the stand, Taylor reportedly said she was too scared to tell her husband she was pregnant because he used to abuse her.
"I was in denial that I was pregnant," Taylor said through tears on the stand Tuesday.
"But you actively did not tell all the family and support you have, and your husband, that you were pregnant?" asked the prosecutor.
"Right," cried Taylor.
Thanks for reading CBS NEWS.
Create your free account or log in
for more features.