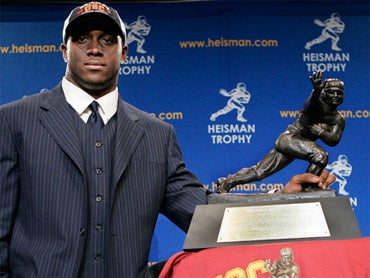 Sources: Reggie Bush to be Stripped of Heisman
(CBS/AP) It appears that Reggie Bush might become the first football player ever to be stripped of the Heisman Trophy.
Sources tell Yahoo! Sports that the Heisman Trust is expected to revoke college football's top honor from the former USC star by the end of the month. The news comes two months after the NCAA found major violations in the Trojans' football program during Bush's Heisman-winning 2005 season.
USC won 12 games during the 2005 season, which ended with a loss to Texas in the 2006 BCS title game.
Sources said the trust will strip Bush of his award and leave the honor for that season vacant. It would be the first time the trophy has been revoked in the award's 75-year history, Yahoo! Sports reports.
However, Robert Whalen, executive director of the Heisman Trophy Trust, told The AP on Tuesday that "the Heisman Trophy trust has made no decision regarding the Reggie Bush situation."
In June, the NCAA leveled the university with stinging penalties, issuing a two-year bowl ban and declaring Bush ineligible dating back to the Trojans' 2004 national championship.
Read a news release of the NCAA sanctions
Citing USC for a lack of institutional control in its long-awaited report, the NCAA also put the entire athletic program on four years' probation, took away a total of 30 football scholarships over three years and vacated every victory in which Bush participated in from December 2004 through the 2005 season.
The NCAA found that Bush, identified as a "former football student-athlete," was ineligible beginning at least by December 2004, a ruling that could open discussion on the revocation of the New Orleans Saints star's Heisman. Members of the Heisman Trust have said they might review Bush's award if he was ruled ineligible by the NCAA.
Thanks for reading CBS NEWS.
Create your free account or log in
for more features.