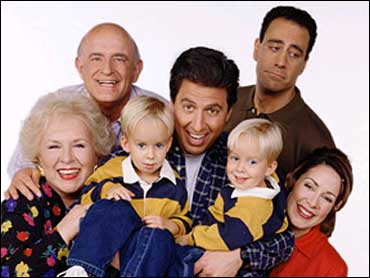 Source Of Most 'Raymond' Plots: Real Life
Many of us think our families are funny. But Phil Rosenthal took it one step further, using his funny family to create the hit sitcom, "Everybody Loves Raymond."
It went on to become a mega-hit for CBS, running from 1996 to 2005, and winning 15 Emmy awards along the way.
Rosenthal tells what went on behind the scenes of "Raymond" in his new memoir, "You're Lucky You're Funny: How Life Becomes a Sitcom." The book is also a guide for aspiring sitcom writers.
He visited The Early Show Thursday and talked about it with co-anchor Rene Syler.
Rosenthal says 90 percent of the stories on the show were based on the real-life experiences of himself, star Ray Romano and the show's writers.
He says he learned from Carl Reiner that you don't have to get laughs at any cost. The laughs will be deeper and richer if the people are grounded in real life. When you do something in the show that can't happen in real life, the audience disconnects from the characters. And, if you live your life that way, you won't have a show.
"I guess," he told Syler, "I had these terrible things happen to me and I thought, 'You could either be depressed or make something out of it.' "
For instance, Rosenthal once signed his parents up for a "Fruit of the Month Club," and his mother's reaction when they got their first box of fruit was so funny, he used it in the "Raymond" pilot.
Rosenthal's wife, Monica Horan, played the wife of Romano's brother, Robert, on the show.
Asked by Syler how many of his arguments at home with Amy wound up in the show, Rosenthal responded: "That was kind of the homework! We would go home early, we were home for dinner every night. All the writers. And the assignment was, 'Go home, get in a fight with your wife so we have a show for tomorrow!' "
Rosenthal comments over and over again in the book about the importance of "being nice" to have a successful sitcom. He says he learned that because he worked for some shows that weren't nice. He says: "I wanted work to be nice. When I got to be in charge, I could make sure it was nice, or I could take revenge on how badly I had been treated. I said, 'Hey, we're going to be nice.' And that meant starting with the best crafts service.' "
Another piece of advice: "Use yourself," he said to Syler. "Use your experience. 'Cause that's what separates all of us. ... That's what you bring to the table. Write what you know."
As for the relative dearth of sitcoms and dramas on primetime TV right now, Rosenthal predicts they'll rebound, saying it's all cyclical and adding, "I like to think that when ours went off, that that was the end. But I don't think it is. I just told people it was."
To read excerpts of "You're Lucky You're Funny," click here.
To watch the interview, click here.
Thanks for reading CBS NEWS.
Create your free account or log in
for more features.