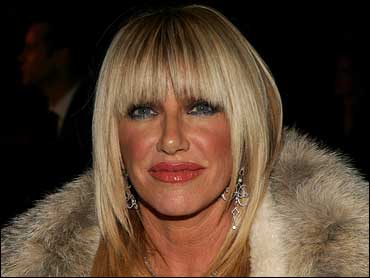 Somers Loses Home In Malibu Wildfires
Suzanne Somers' home was one of four destroyed by a wind-driven wildfire that swept through an exclusive seaside neighborhood of multimillion-dollar homes, a spokesman confirmed Tuesday.
Firefighters were still at the scene on Tuesday, watching for flareups. In addition to those destroyed, four other houses were significantly damaged Monday, and one resident who was not identified was hospitalized for treatment of smoke inhalation.
"My nature is to look at the glass half-full," Somers said in a statement Tuesday. "I truly believe we will learn something great from this experience."
Viewing the damage, an emotional Somers told reporters, "I don't have a son or daughter in Iraq. There's not a death in the family. We will rebuild, and I truly believe we will learn something great from this experience."
The 60-year-old actress and her husband, former game show host Alan Hamel, were out of town when the fire hit, and a Hamel spokesman said the home was a total loss. Somers, who shot to fame as a ditzy blonde on the 1970s sitcom "Three's Company," is also well-known for her exercise gear products and upbeat views on a variety of subjects.
The burned properties were still smoldering Tuesday, and about 150 firefighters and arson investigators were on the scene.
The blaze had been fanned by Santa Ana wind as it raced through the celebrity enclave near Pepperdine University. "Red flag" fire danger warnings posted by the National Weather Service remained in effect for much of Southern California because of the strong wind and low humidity.
"I think they did a great job, the fire people. What can you do? It's terrible," said attorney George Roland, who also lost his home. Not much remained there Tuesday beyond a few trees and a pink front gate.
Fire officials didn't identify the owners of the other destroyed houses, but actress Victoria Principal was among those who rushed out to hose down their homes after the fire was reported about 5 p.m. Monday.
Principal's publicist, Alan Nierob, said her home wasn't damaged. "She covered her house with water," he said.
Victoria Pinero, co-owner of Little Angels Pet Services, which takes care of dogs and other animals, was house-sitting at one of the homes destroyed in the blaze. She said she wasn't home at the time the fire erupted, but rushed back to save the owner's four dogs.
She said she found two dogs, but "we are still looking for the last two dogs. ... We did everything we could," she said, crying. "For these people, the dogs were basically their children."
The blaze burned near the Malibu Colony, one of the area's original beachfront neighborhoods, dating to the 1930s. The densely built stretch of luxury homes has been a favorite of celebrities over the years.
"Right now we cannot speculate about how this happened," Inspector Rick Dominguez said early Tuesday.
Residents of Malibu include Mel Gibson, Pierce Brosnan, Pamela Anderson, Barbra Streisand, Ted Danson, David Geffen and Courteney Cox-Arquette.
Malibu has frequently been the scene of devastating fires. In 1993, hundreds of homes were lost and three people were killed. A 1996 fire injured 11 people and destroyed six homes.
Thanks for reading CBS NEWS.
Create your free account or log in
for more features.