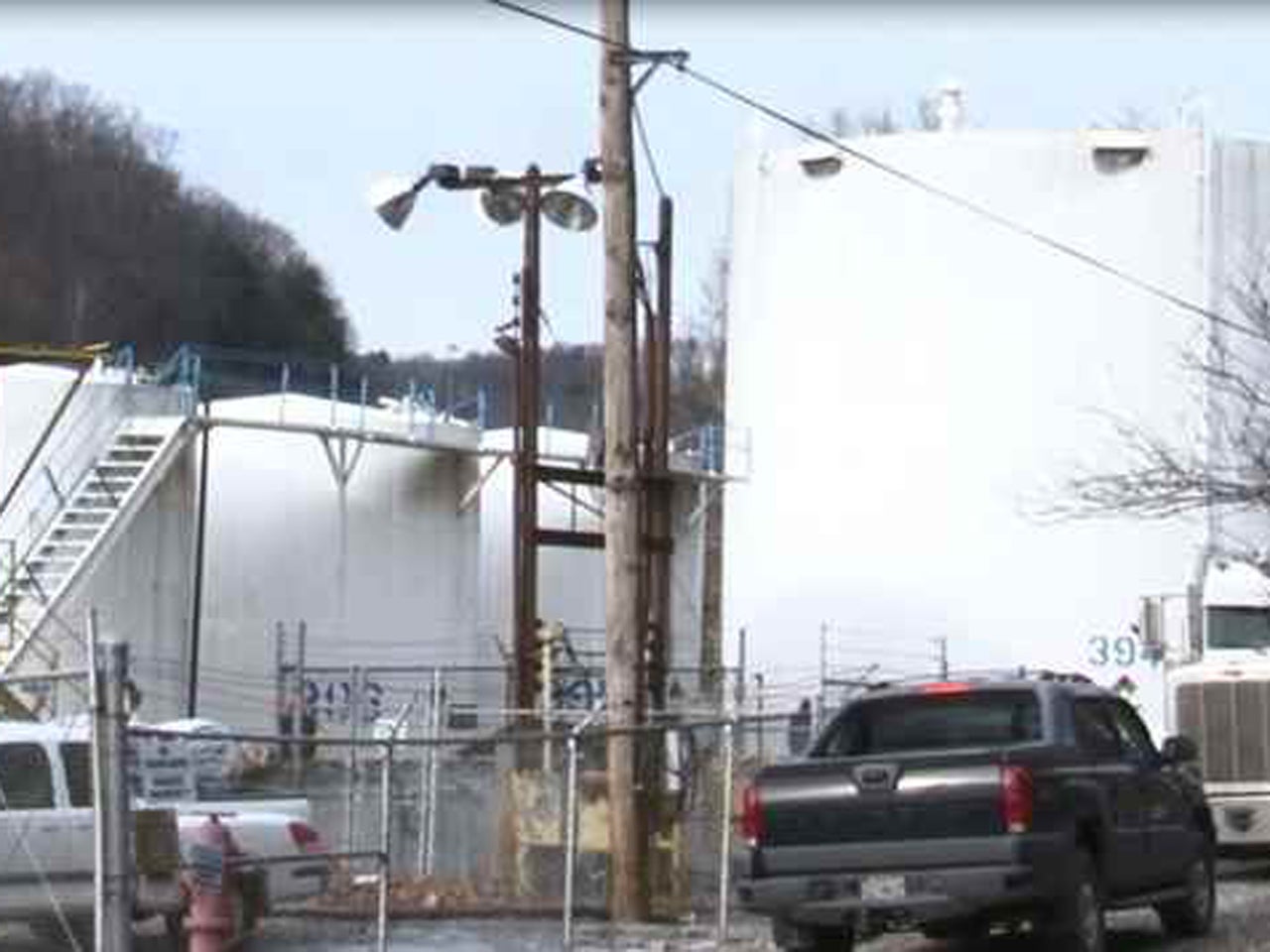 Chemical spill shuts off water to 300K in West Virginia
CHARLESTON, W.Va. - Schools and restaurants closed, grocery stores sold out of bottled water, and state legislators who had just started their session canceled the day's business after a chemical spill in the Elk River in Charleston shut down much of the city and surrounding counties even as the cause and extent of the incident remained unclear.

The federal government joined the state early Friday in declaring a disaster, and the West Virginia National Guard planned to distribute bottled drinking water to emergency services agencies in the nine affected counties.

About 100,000 water customers, or 300,000 people total, were affected, state officials reported.

Federal law enforcement authorities have opened an investigation into the spill, U.S. Attorney Booth Goodwin said Friday.

Goodwin said the release of the potentially dangerous chemical into the water supply "has put hundreds of thousands of West Virginians at risk, severely disrupted our region's economy, and upended people's daily lives."


Shortly after the Thursday spill from Freedom Industries hit the river and a nearby treatment plant, a licorice-like smell enveloped parts of the city, and Gov. Earl Ray Tomblin issued an order to customer of West Virginia American Water: Do not drink, bathe, cook or wash clothes with tap water.

The chemical, a foaming agent used in the coal preparation process, leaked from a tank at Freedom Industries and overran a containment area. Officials from Freedom, a manufacturer of chemicals for the mining, steel, and cement industries, hadn't commented since the spill, but a woman who answered the phone at the company said it would issue a statement later Friday.

The tank that leaked holds at least 40,000 gallons, said Tom Aluise, a state Department of Environmental Protection spokesman. "We're confident that no more than 5,000 gallons escaped," he said. "A certain amount of that got into the river. Some of that was contained."


Officials say the orders were issued as a precaution, as they were still not sure exactly what hazard the spill posed to residents. It also was not immediately clear how much of the chemical spilled into the river and at what concentration.

McIntyre said the chemical isn't lethal in its strongest form. Kanawha County emergency officials said the chemical is called 4-methylcyclohexane methanol.

"We don't know a lot about the product -- we're still sampling and looking at concentrations," said water company president Jeff McIntyre. "I don't know if the water is not safe . . . Until we get out and flush the actual system and do more testing, we can't say how long this (advisory) will last at this time."

There is no way to treat the water, a spokesperson for the water company, Laura Jordan, told CBS Huntington, W. Va. affiliate WOWK-TV.

McIntyre said the chemical isn't lethal in its strongest form. Kanawha County emergency officials said the chemical is called 4-methylcyclohexane methanol. Freedom Industries officials were unavailable for comment.

According to a fact sheet from Fisher Scientific, the chemical is harmful if swallowed - and could be so if inhaled - and causes eye and skin irritation.

The Charleston Area Medical Center reported Friday morning that its emergency room had treated approximately five people who reported symptoms of water contamination related to the chemical spill, according to WOWK.

Medical professionals have indicated those people will be fine, but were warned to look out for nausea, skin and eye irritation and vomiting and hospital personnel will keep a close eye on them as well, WOWK says.

The emergency declaration involves customers in all or parts of the counties of Kanawha, Boone, Cabell, Clay, Jackson, Lincoln, Logan, Putnam and Roane. State Department of Education spokeswoman Liza Cordeiro said schools in at least five of the counties will be closed.

The smell from the spill - similar to licorice or cough syrup - was especially strong at the Charleston Marriott hotel a few blocks from the Elk River, which flows into the Kanawha River in downtown Charleston. The Marriott shut off all water to rooms, and then turned it back on so guests could flush toilets. Each guest was given two 16.9-ounce bottles of spring water upon returning to the hotel.

About 50 miles away in the unaffected city of Huntington, a hotel offered free showers for those affected.

Even as the National Guard made plans to mobilize at an air base at Charleston's Yeager Airport, many people -- told to use water only for flushing toilets -- weren't waiting for outside help.

Once word got out about the governor's declaration Thursday, customers stripped store shelves in many areas of items such as bottled water, paper cups and bowls. As many as 50 customers had lined up to buy water at a convenience store near the state Capitol in Charleston.

"It was chaos, that's what it was," cashier Danny Cardwell said.
"Everybody's wanting water, and there is no water," said grocery store manager Jeff Joseph," and that brings concern."
State Attorney General Patrick Morrisey warned residents about price gouging on water, ice and other items, calling it "just plain wrong" to inflate prices and encouraging those who've seen such practices to report them to his office's consumer protection division.
Though the governor noted that the water advisory extended to restaurants, hospitals, nursing homes and other establishments that use tap water, state public safety spokesman Lawrence Messina said Friday that he wasn't aware of any hospitals closing and that medical centers "seemed to have adequate water supply, at least for the short term."
At the Little India restaurant in Charleston, about 12 customers were asked to leave when bar manager Bill LaCourse learned about the shutdown notice.
Karlee Bolen, 16, of Charleston, said her family, including her parents, two sisters and brother, were considering the possibility of heading to her grandmother's home in Braxton County, an hour to the northeast, where tap water was unaffected.
"I kind of want to shower and brush my teeth," she said.
Thanks for reading CBS NEWS.
Create your free account or log in
for more features.