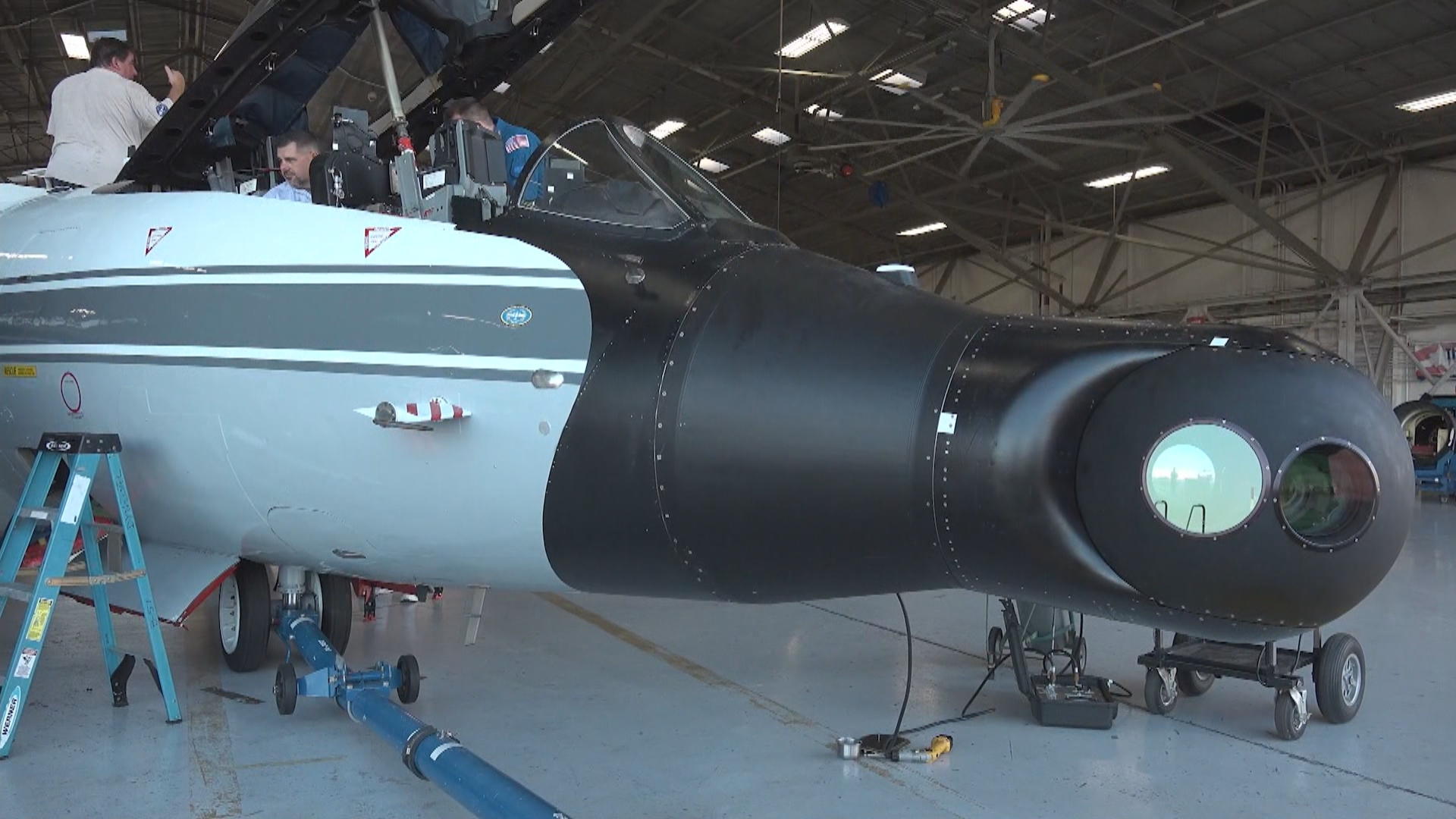 NASA jets will chase solar eclipse at 50,000 feet
It's go time for NASA's stratospheric airborne science team. On Monday, a total solar eclipse will travel coast-to-coast in the U.S. for the first time in 99 years. Pilots at Ellington Field, next door to the Johnson Space Center in Houston, are going on an atmospheric research flight.
Their rides: 1960s-era former bomber jets, called WB-57s.
During the total solar eclipse, the same planes will serve a very different purpose, reports CBS News correspondent David Begnaud.
Cary Klemm is one of four NASA flight crew members who will be chasing the eclipse over Missouri, Illinois and Kentucky at 460 mph.
"My job is to calibrate and initialize the camera payload that we'll be using to look at the eclipse. That includes focusing and zooming in to get the best shot," Klemm said.
Klemm said he will be wearing solar eclipse glasses.
"It's actually even more important to wear the eclipse glasses at high altitudes. There's less air to block the sun, and the sun's a lot stronger," Klemm said.
Amir Caspi leads the team of scientists.
"These planes will be outfitted with special cameras in their nose cones," Caspi said. "So the planes … will be looking at the solar corona, the outer atmosphere of the sun."
He said on a regular day, the sky is so bright, you can't see the corona, but during the total solar eclipse, the "dim corona suddenly becomes visible."
"Our results will lead to a better understanding of the corona, which will eventually lead to a better understanding of ...flares and coronal mass ejections," Caspi said.
"They can cause blackouts of radio frequency communications. Cell phones can have trouble working," Caspi explained. "It can cause power outages by knocking out power grids."
The best way to understand what erupts off the sun's corona is to photograph it over long periods of time. But ground-based cameras will only have about two minutes of total eclipse time.
Because two of the planes will be flying tandem along the eclipse path, it will give scientists an unprecedented look at the sun.
"Each plane will be able to observe totality for about four minutes. And when we stitch together the observations from both of the airplanes, we be getting about seven- to seven-and-a-half minutes of total solar eclipse," Caspi said. "We'll be getting 30 photographs a second for seven-and-a-half minutes of totality. … That's about 29,000 photographs between the two airplanes."
Scientists will be studying the data these planes gather for years, but for the rest of us on Monday, NASA TV will be live-streaming images taken from on board shortly after 2:15 p.m. EST. They should be impressive. We're told the sky is 20 to 30 times darker up at 50,000 feet than it is down on the ground.
Thanks for reading CBS NEWS.
Create your free account or log in
for more features.